JAKARTA, KOMPAS.com - Indonesian Minister of Health Budi Gunadi Sadikin has apologized to Jakarta Governor Anies Baswedan after his ministry gave Jakarta a 'grade' of E - the Indonesian equivalent of an F - for failing to mitigate Covid-19 cases between May 16 to 22.
The former banker maintained on Friday that news of the report, which came out the previous day, was misrepresented. "The [grade] of E was indicated the risks of Covid-19 transmission. It does not indicate Jakarta's track record in mitigating or controlling the pandemic," he said.
"Jakarta is one of the Indonesian provinces with the best track record in countering Covid-19 anywhere in Indonesia. The risk indicator should not be perceived as the track record."
Budi added that he appreciated the heath workers dedication, and hopes the Indonesia people can rally around them to combat Covid-19, and in doing so make Indonesia greater than ever.
Also read: Covid-19 Cases Surge in 10 Indonesian Provinces
Jakarta Governor Anies Baswedan accepted Budi's apology. "We appreciate [Budi's] gesture. As a man of science, he understands the need for proof and empirical evidence" he said in a written statement.
"We also appreciate the close cooperation between the Jakarta Provincial Administration and the central government in tackling the Covid-19 pandemic in the capital."
Deputy Minister of Health Dante Saksono first conveyed Jakarta's absymal score in countering the Covid-19 pandemic during a hearing with the House of Representatives.
"Jakarta is the only one of Indonesia's 34 provinces to get an E, after they could not mitigate the spread of Covid-19, as based on our weekly assessment from May 16 to 22," he said.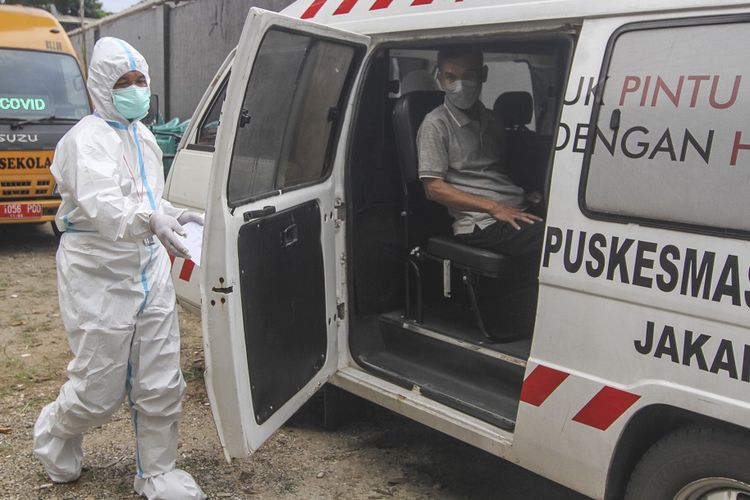 Medical workers take away residents of Jakarta's Cipayung district who tested positive for Covid-19 on Friday (21/5/2021). ANTARA FOTO/Asprilla Dwi Adha/rwa.
"The E grade is also based on the capital's response capacity and transmission rates, which are among the worst nationwide, Dante noted.