CHICAGO, KOMPAS.com – The Indonesian Consulate in the U.S. city of Chicago [KJRI Chicago] has taken advantage of the metropolis' eclectic culinary scene to continue promoting Indonesian cuisine to the city's people in particular, and the American public in general.
Titled Indonesian Gourmet Day, the event is held in conjunction with Minahasa, an Indonesian restaurant in Chicago.
"[Indonesian Gourmet Day] is designed to promote Indonesian cuisine in Chicago," said the consulate in a press release received by Kompas.com on Wednesday, May 26.
"It is a part of a round of 'gastrodiplomacy' that the Consulate has been carrying out to promote Indonesian cuisine in Chicago, an American city known for its food scene."
Also read: Indonesia to Register Tempeh to UNESCO As An Intangible Cultural Heritage
Held at the Revival Food Hall in the center of Chicago, the venue attracted visitors who dropped by out of curiosity and the need to grab a bite.
The Indonesian décor played a role in drawing visitors, as does the promotion for chicken satay, one of Indonesia's most iconic foods. The turnout relieved the organizers, among them Tasya Hardono, the owner of Minahasa.
"We noticed that most of the visitors are American citizens and a number of overseas Indonesians. Our goal all along was to introduce Indonesian food for them to savor," she said.
"We were initially way of holding the event because of [the Covid-19] pandemic, so the turnout exceeded our expectations. Indonesian food is extraordinary and deserves a place in Chicago's dynamic dining scene."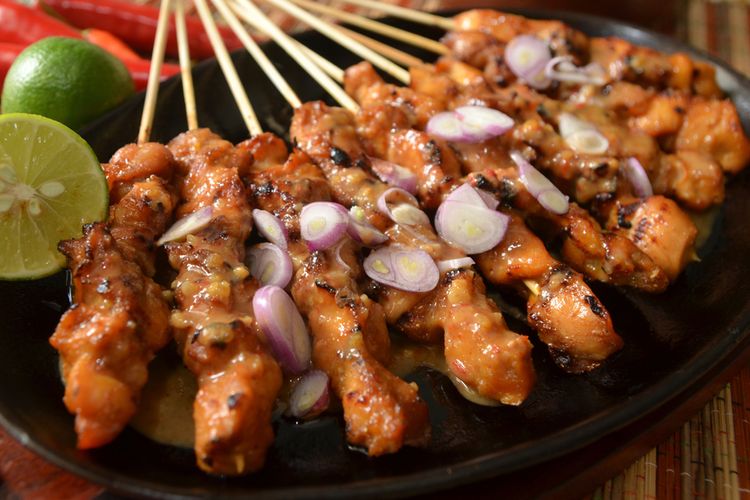 A plate of chicken satay
She pointed out that Minahasa is carving a niche for Indonesian food in Chicago, as its location in the center of town draws professionals working in nearby office buildings. The diners' testimonies reflect Tasya's observations.