KOMPAS.com -Indonesian cuisine continues to make inroads on the global culinary scene, after the CNN news channel included Soto Ayam or Indonesian chicken noodle soup in its list of 20 best soups in the world.
"Chicken noodle soup may reach its culinary pinnacle in this piquant Indonesian dish," CNN said of Soto Ayam in the March 2021 report. The article also evoked the varied ingredients that go into making this dish.
"Spices such as fresh turmeric, star anise, cinnamon, lemongrass and lime leaves combine for deeply layered aroma and flavor, with the jammy yolks of soft-boiled eggs to add extra richness."
Also read: 6 Eateries Dishing out the Best 'Gado-Gado' Salad in Jakarta
Traditionally, the soup is made with a full-bodied chicken broth that was marinated over several hours, mixed with subtle aromatic yellow basic spices such as onion, garlic, turmeric and ginger.
It will then be served with chicken pieces, chopped cabbage and vermicelli. People also add eggs, fried shallots, fresh limes and chili sambal paste to complete the dish.
The soto ayam's flavors are enhanced when the soup is eaten with white rice. Some diners prefer to soak their whole portion of rice in the soup, and some just have it on the side, while others dip shrimp crackers in the soup to give an extra crunch.
Aside from Indonesia, CNN also mentioned that soto ayam is also a staple in Singapore, Malaysia, and Suriname in South America, where it was taken by Javanese immigrants who settled in the then-Dutch colony.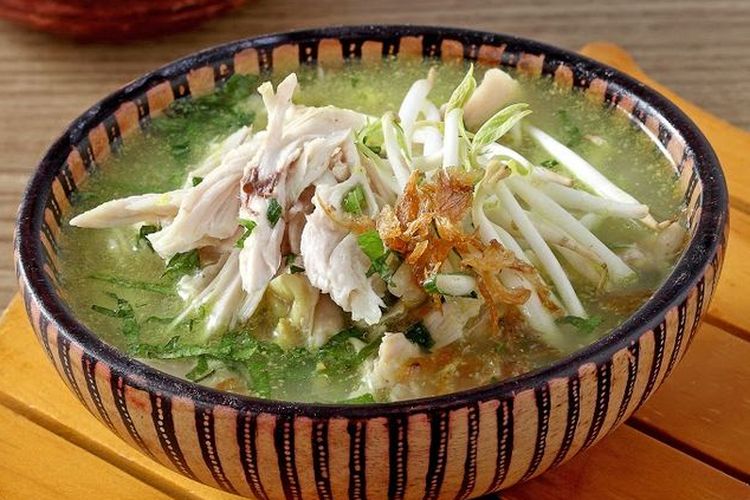 A Soto Kemiri, a Soto that uses candlenut as its primary spice
Kompas.com estimated that there are 75 types of soto. 22 of them can be found on Java alone, such as Soto Lamongan from the East Java town of the same name, Soto Betawi from Jakarta, as well as Soto Mie or Soto with noodles.
In other parts of Indonesia, soto is known as coto, tauto, sroto or saoto, all of which varies in filling and seasoning, depeding on the local spices and produce.