JAKARTA, KOMPAS.com – The casualties in a series of natural disasters in East Nusa Tenggara has risen to 165 on Friday, up from 138 in the middle of the week.
Insurgents or 'Armed Criminal Groups' in Papua have turned to terrorizing educational institutions, after they killed two teachers and kidnapped one educator. They also burned down three schools in the Puncak regency.
And police in Bali bust a prostitution ring they suspected of operating since 2020, after they arrested three Uzbek forced into prostitution, and their Indonesian pimp. This and more on Indonesia Highlights: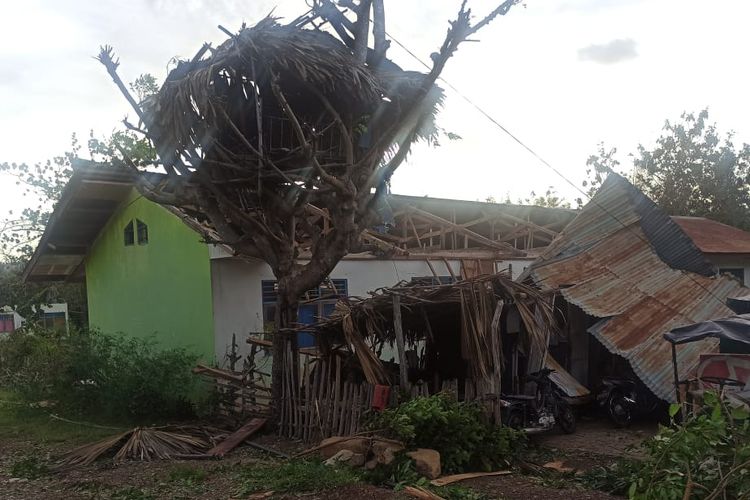 A house in Sabu Raijua regency, East Nusa Tenggara province hit by high winds
Death Toll in East Nusa Tenggara Natural Disasters Reach 165
The number of victims in a series of natural disasters that hit the provinces of East Nusa Tenggara and West Nusa Tenggara has risen to 165, less than a week after flash floods, mudslides and lava floods hit the area last Sunday on April 4.
"Aside from the 165 people confirmed dead in the natural disasters, another 45 persons are listed as missing," said National Disaster Mitigation Agency [BNPB] head Doni Monardo on Friday.
"The East Flores regency bore the brunt of the losses with 71 dead, followed by Lembata regency with 46 fatalities. Alor regency was third with 28 people."
Doni's grim figures does not end there. "Another 156 people are known to be injured in the disaster, which drove 17,834 people from their homes. More than 20 thousand others are also affected by the disasters to a greater or lesser extent."
The government has particularly focused on disaster mitigation in the eastern Indonesian provinces, with President Joko 'Jokowi' himself overseeing relief operations in the stricken areas.
Source: