JAKARTA, KOMPAS.com - For lifelong Jakarta residents or Betawi people as well as newcomers to the capital, nasi uduk or savory rice cooked in coconut oil and various spices is a staple food in the capital.
This mix of white rice, coconut milk, salt, as well as ground lemongrass, bay leaves, and kaffir or lime leaves has a way of whetting one's appetite from the first bite. The combination gave nasi uduk a fluffy yet firm texture that does not stick.
Nasi uduk makes a winning pair with side dishes like fried chicken, sliced omelet, beef floss [abon], and tempe orek or tempeh stir fried with sweet soy sauce.
This combination of flavors and textures make nasi uduk a choice meal for breakfast or brunch, as well as lunch or dinner.
Like other iconic foods, nasi uduk have a long history. Its origins can be traced to other parts of Indonesia, and even the rest of Southeast Asia.
A culinary hybrid
Betawi culinary expert and historian, Pudentia, believed that nasi uduk's origins was over 500 years old, even predating Jakarta's official founding in 1527.
Also read: 8 Indonesian Nostalgia Evoking Sweets
"When [the Sultanate] of Malacca fell to the Portuguese [in 1511], many of its aristocratic Malay ruling elite fled to Batavia," Pudentia explained, as cited in a Kompas.com article in 2017.
"As they fled, these exiles brought their own specialty, namely nasi lemak or rich rice. Over time, they encountered Javanese people who were used to eating savory rice."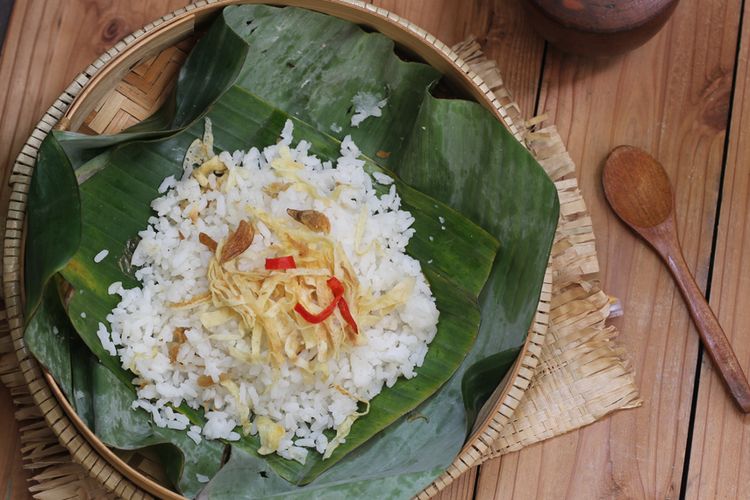 Nasi Uduk in banan leaves
Pudentia added that this encounter was particularly marked by the Siege of Batavia in 1628-1629, when the forces of the Javanese kingdom of Mataram under Sultan Agung launched an attack on the VOC.
While Sultan Agung's offensive was unsuccessful, it was not entirely in vain. "[The siege of Batavia] intermingled Malay and Javanese [cultures]," Pudentia said. "This acculturation process of nasi lemak and savory rice ultimately produced nasi uduk."
Origins in hardship
Yet the Indonesian Culinary Academy has a different view of nasi uduk's origins in their 2016 book "Kuliner Betawi Selaksa Rasa & Cerita" [Culinary Betawi Cuisine's Many Flavors and Stories] (2016). "Etymologically, the term 'uduk' means difficult," the book said.
"Nasi uduk was originally cooked by the poor, as it was often eaten by farmers working in rice paddies." Regardless of its origins, nasi uduk has become a major Betawi cultural tradition to the present day that is eaten as everyday fare or as a special menu for festive occasions.
Also read: Dutch Woman in Jakarta Serves Hope in A Bowl of Chicken Noodles
True to Jakarta's diverse nature, each neighborhood in the capital has its own variant of the dish, among them the Rawa Belong area from West Jakarta, as well as the Kebon Kacang subdistrict in Central Jakarta's Tanah Abang district.
But wherever one goes for nasi uduk, they should keep in mind that the dish is more than food for the body and soul; it is also a link to Jakarta's past and Indonesian history.
(Writer: Alma Erin Mentari, Wahyu Adityo Podjo | Editor: Alma Erin Mentari, I Made Ashdiana)
Sources:
https://www.kompas.com/food/read/2021/02/21/183200775/sejarah-nasi-uduk-konon-sudah-ada-sejak-ratusan-tahun-lalu
https://travel.kompas.com/read/2017/05/06/100600227/nasi.uduk.kuliner.persilangan.budaya.melayu.dan.jawa
Dapatkan update berita pilihan dan breaking news setiap hari dari Kompas.com. Mari bergabung di Grup Telegram "Kompas.com News Update", caranya klik link https://t.me/kompascomupdate, kemudian join. Anda harus install aplikasi Telegram terlebih dulu di ponsel.