KOMPAS.com - Beach lovers, divers, and those who need to escape from the hustle and bustle of city life and yearn for pristine beaches, may want to consider these hidden gems in Indonesia's Bawean island which is located in the Java Sea.
The island offers white sand that lies on almost all of its beaches, including the small islands around it. Tourists can see the best sunset from various corners. Not to mention the amazing underwater beauty, it is no wonder that almost all beaches have snorkeling spots.
The island stood approximately 120 km north of East Java's Gresik regency. Covering a total area of 196 square km, the island is home to tremendous natural tourist attractions.
Beautiful natural wealth
Gili Beach or Gili Island is a small island in Bawean that is famous for its beautiful white sand, where visitors enjoy sunrise and sunset. The island, which is located east of Bawean, is the largest and most populous island compared to others.
Also read: Tourism Minister Sandiaga Drops a Pin in Indonesias Version of Nepal
Another part is Noko Island, which consists of a wide and clean stretch of white sand. It also serves amazing underwater scenery with a variety of preserved ornamental fish and sponges. This island is not far from Bawean, it can be seen from the hills around Bawean beach, its elongated shape contains white sand and grass, really charming to look at from above.
Another popular spot is the Kuburan (cemetery) Panjang Beach. As the name suggests, this beach has a burial site that is 12 meters long. The people believe that the long grave is the grave of Aji Saka's guards in Bawean. The grave is sacred by the Bawean people.
Aside from beach, visitors can explore Bawean's mainland which only consists of two districts, namely Sangkapura District and Tambak District. There is an exotic freshwater lake that changes color according to the season, as well as the eye-capturing 25-meter-high Laccar waterfall located in the Sangkapura District.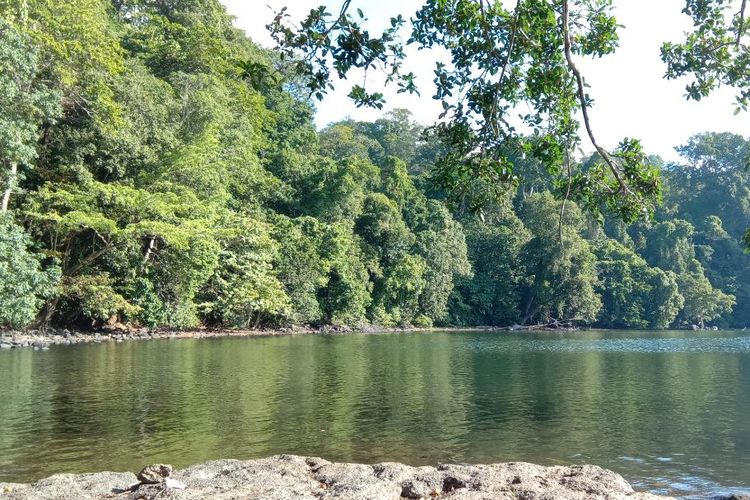 The scenery and calm atmosphere on Lake Kastoba, Bawean Island, Gresik, East Java.
Meanwhile, Lake Kastoba is one of the many natural attractions that have become popular in Tambak District. This lake does have its own charm, apart from offering freshness, there is a giant tree that has been there for hundreds of years.
Only in Bawean
In Bawean, there is a protected endemic deer species, namely Axis Kuhli, of which only 400 to 600 deers are left. They are wild deers. Therefore, visitors cannot feed them without permission. They can only visit the deer reserve located inside of the valley.
Dining-wise, Bawean is one of the islands with abundant marine products, offering many seafood culinary delights, such as fresh fish and Bawean's signature green bamboo lobster. Processed culinary delights such as fish cake, fish ball, and Bawean chili sauce are also a good option.
Also read: Bali Mull Covid-19 Jab Drive for Travelers to Revive Tourism
Uniquely, the majority of this island's population are women because many men are working abroad such as in Singapore and Malaysia. On a daily basis, most of the Bawean people usually will leave their motorbikes unattended on the side of the road or at a parking lot with the key still hanging on the keyhole. This is because the island is far apart from other islands, making it difficult to steal motorbikes or other vehicles.
"We can leave the motorbike unattended, it is common as no one will steal it," a resident told Kompas.com in the Sangkapura Square previously.
How to get there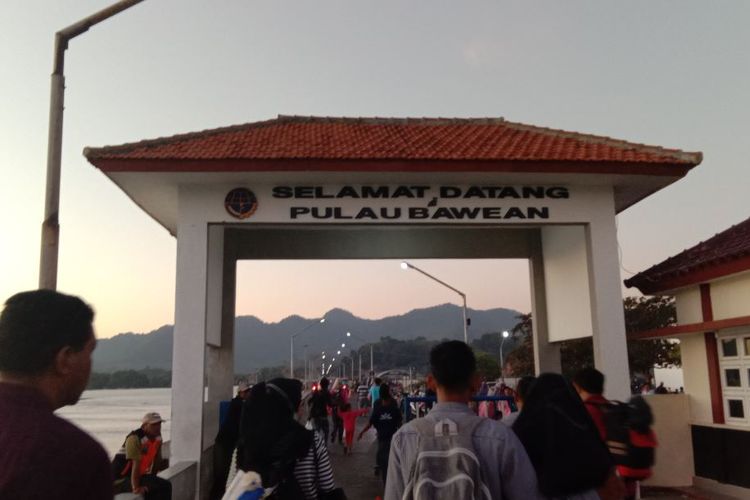 The entrance to Bawean Island from Sangkapura Port.
Tourists who want to visit Bawean Island can choose via air route or sea route. By paying 300,000 rupiahs ($21), visitors can fly from Surabaya city to Bawean island by using a twin otter plane operated by Airfast Indonesia, which can carry 12 to 18 passengers. Meanwhile, going from Gresik Port and Paciran in Lamongan regency with a speed boat or a ferry is also possible.
Since the public transportation is still minimal, visitors can bring their own or rent a motorbike with a price range starting from 45,000 rupiahs ($3) to 60,000 rupiahs ($4). Visitors can also rent a four-wheeled vehicle, including a driver for around 550,000 rupiahs ($38).
Several important things need to be prepared for before snorkeling in the marine park. Visitors need to bring their snorkeling gear because not all the tour operators provide them.
The lodging facilities are quite a lot, ranging from cottages, motels, to hotels with a rate of 250,000 rupiahs ($17) a night.
(Writers: Muhammad Irzal A, Luthfia Ayu Azanella, Kahfi Dirga Cahya | Editors: I Made Ashdiana, Resa Eka Ayu Sartika, Kahfi Dirga Cahya)
Sources: Kompas.com
Dapatkan update berita pilihan dan breaking news setiap hari dari Kompas.com. Mari bergabung di Grup Telegram "Kompas.com News Update", caranya klik link https://t.me/kompascomupdate, kemudian join. Anda harus install aplikasi Telegram terlebih dulu di ponsel.