"The [Philadelphia] authorities have been cooperative. They have taken [the case] seriously and have constantly updated [the Consulate-General] about the case's development."
The rising number of Anti-Asian hate crimes – which according to the Stop AAPI [Asian American Pacific Islander] Hate NGO surged to 3,795 cases between March 2020 to February 2021 – prompted Indonesian consulates in the United States to issue advisories to Indonesian nationals.
"[The Ministry of Foreign Affairs] is continuously keeping in touch with Indonesian organizations and student associations in the US," said the Ministry in a statement to Kompas.com on Saturday.
Also read: Indonesian Embassy in Japan to Account For Indonesian Nationals After Earthquake
"The [Director] for American and European Intra and Inter-regional Cooperation [Masni Eriza] has touched on the issue with [the US State Department's] Acting Assistant Secretary of State for East Asian and Pacific Affairs Sung Kim. We conveyed our concerns about the situation, and urged [US authorities] to safeguard and protect Indonesian nationals in the United States."
Varied reactions
Indonesian nationals in the US reacted in various ways to the spate of hate crimes, which reached unprecedented levels with a mass shooting in the US city of Atlanta which killed eight people, including six Asian women, on March 16.
Indonesian born Atlanta resident Daniel Fu expressed his shock at the attack. "Atlanta is calmer than other US cities like New York," said the father of two. "But the recent shooting just shows that anyone from certain countries or ethnicities can be targeted [in Atlanta]."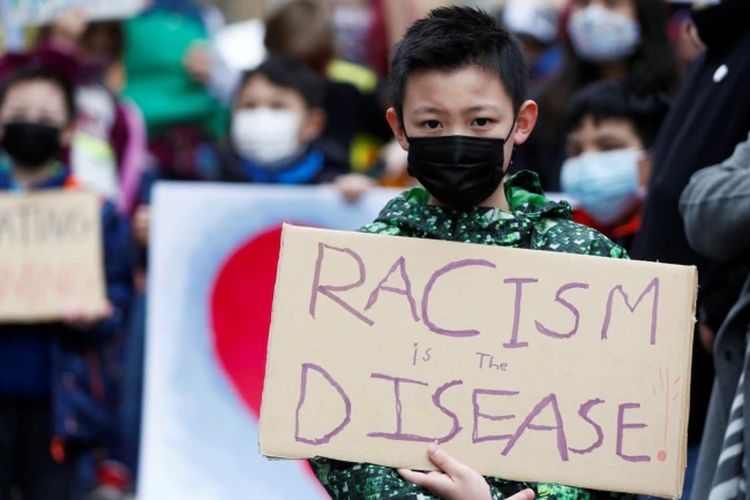 11-year old Ethan Yang holds up a sign at a protest condemning anti-Asian violence in the Chinatown district of Seattle, Washington State, USA (20/3/2021)
His compatriot, Philadelphia denizen Robert Cratius, agreed. He noted that much of the hate came from the US' divisive politics, particularly under former President Donald Trump.
"Unfortunately, [President Trump] normalized terms like KungFlu and the China Virus. Children see and learn from his example, before they eventually imitate him," he lamented. "While bullying is a longtime problem here, I worry that it will worsen as Asians get scapegoated for Covid-19."