JAKARTA, KOMPAS.com – Indonesians chafing to travel over the Islamic Eid-al Fitr or Idul Fitri festivities will have to skip the annual trip to their hometowns throughout Indonesia in 2021, after the government officially banned this beloved holiday tradition this year.
Coordinating Minister for Human Development and Cultural Affairs Muhadjir Effendy explained that the government adopted the policy following a cabinet meeting Friday.
"The ban on the [Idul Fitri] holidays applies to civil servants, military and police personnel, as well as state-owned enterprises [BUMN], from May 6 to May 17," he said at press conference after the meeting.
"The prohibition also applies to professionals in the private sector, freelance and contract workers, and the public at large. While the rule is particularly in force from, we advise the public not to travel before, during and after this period unless there is an emergency."
Also read: Mishap at Jakarta's Halim Airport Causes Diversion of Flights to Soekarno-Hatta Airport
Muhadjir added that the ban is designed "to break the increased chain of transmission and rising Covid-19 death toll over the holidays, such as Christmas and New Year's Day at the end of the year," he noted.
"The prohibition is also intended to optimize the government's Covid-19 vaccination drive."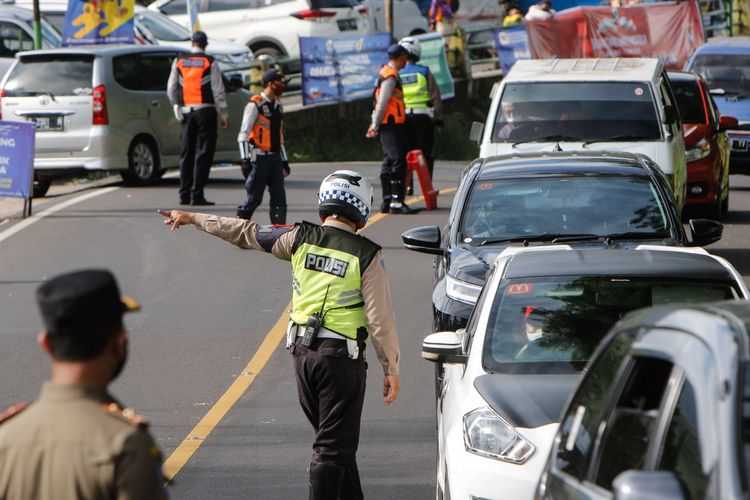 Police in Bogor Regency, West Java, regulate travelers heading to the Puncak tourist area during the Christmas and New Year's holidays on Monday, (1/6/2021)
Muhadjir asserted that the collective leave for Eid-al Fitr still applies on the first day of the festivities on May 13. But he maintained that holiday travels on that day are also prohibited.
Regional leaders like East Java Governor Khofifah Indar Parawansa and Jakarta Deputy Governor Ahmad Riza Patria agreed with the central government's step.
"[The holiday travel ban] helps keep the number of Covid-19 cases in Indonesia from increasing. The timing is just right, as it comes as bed occupancy rates or BOR in hospitals, as well as [Covid-19] positivity rates nationwide are declining," Khofifah said.