KOMPAS.com - Like millions of people in Indonesia and around the world, event organizer Veronica Tri Haryanti and her husband, Belgian tour organizer Michael Van Den Bremt, has been economically affected by Covid-19, as the pandemic curtailed travel and crowded events.
Van Den Bremt and his wife were forced to reinvent themselves as the coronavirus hit their bottom line.
The two then set up shop in a ruined warehouse on Jalan [street] ]Tirtodipuran at Yogyakarta's Mantrijeron district, and turned it into a warung eatery called Chicken Shack four months ago.
Instead of serving the gudeg or jackfruit stew that is Yogyakarta's signature dish, Van Den Bremt and Veronica opted to serve Belgian dishes, including grilled chicken, that gave the establishment its name, as well as its state when they purchased the place.
Also read: Dutch Woman in Yogyakarta Serves Hope In A Bowl of Noodles
"We called the eatery 'Chicken Shack' because of its unkempt appearance when we first bought the place four months ago. My wife and I cleaned and repainted the place ourselves to save money," Van Den Bremt said to Kompas.com.
As for Chicken Shack's specialty, "the grilled chicken recipe was passed down in my family [in Belgium] from my grandmother to my mother. She then taught my wife to make the chicken from scratch," he added.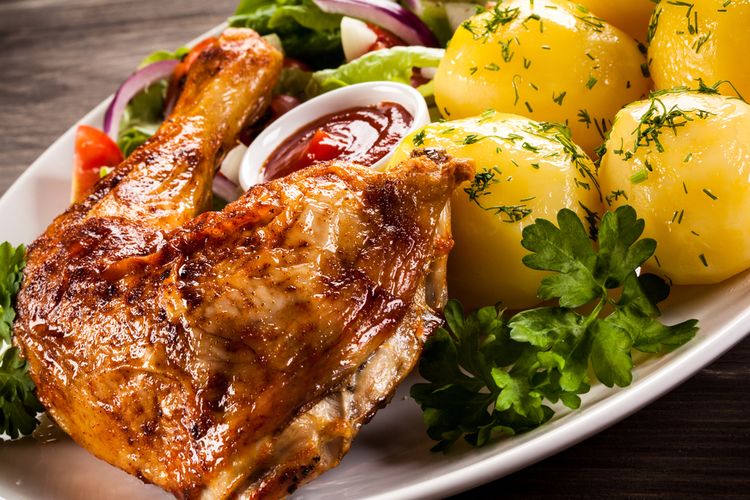 A roasted chicken with potatoes and vegetables
The two's choice to open the eatery at Tirtodipuran is well-considered due to its proximity to Prawirotaman, a quarter of Yogyakarta popular with foreign visitors due to its many hotels.
Like their signature grilled chicken, which goes for Rp. 69,000 [$4.79] for a whole chicken, Chicken Shack featured a Belgian menu. Their entrees included Vol-au-vent stuffed savory pastry, Belgium Stew, and Belgium Meatballs in Tomatoes Sauce.
While the menu sounds upmarket, Veronica said the ingredients are not hard to find in Yogyakarta. She stated that if those spices are unavailable in shops, she can buy them online.