ZURICH, KOMPAS.com - The arome of freshly brewed coffee is more than a surefire way to start your day; it also has a way of bringing people of all walks of life, both young and old, together anytime, anywhere. One such place is Omnia Coffee in Zurich, Switzerland.
Located in the Helvetiaplatz area, the warm and cozy atmosphere of the coffee shop is reflected in the customers' small talk with the baristas, which continued after the former polished off their cappuccino, coffee latte and other brews.
While talk about the weather and specialty coffee is to be expected in any coffee shop, Omnia Coffee is distinct from its counterparts in that Indonesia, most of all Indonesian coffee, often comes up in the conversation.
This chemistry between customers and staff over quality coffee is the avowed goal of Omnia Coffee founders Alista Oksanti and her Swiss husband Martin Ponti since they opened the coffee shop last February.
Also read: 8 Indonesian Nostalgia Evoking Sweets
"[Omnia Coffee's customers] are not just people who want to drop by for a quick joe. They are coffee aficionados who want to know the origins of the coffee they savor," said the Semarang, Central Java native to Kompas.com.
"Our baristas are not only required to serve premium quality coffee, they are required to be aware of their origins."
Yet Alista's ability to bring people together over coffee comes from her professional experience working the Food and Beverage departments of various five star hotels in Jakarta as it does her astute people skills.
At Omnia, Alista and Ponti clearly accounted for the coffee they sell and how it goes from the growers to the consumers' cup. "While Omnia serves robusta and arabica coffee, they are all grown, even roasted, in Indonesia," she pointed out.
Alista made her point by showing several bags of coffee from Bali, Toraja, Sumatra and Flores. "The customers can have a coffee latte or cappuccino, but the coffee originates from Indonesia."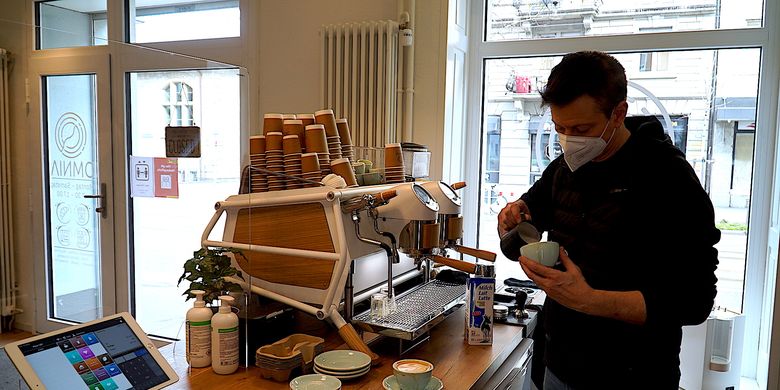 Martin Ponti, a man from Switzerland who has studied Indonesian coffee for 20 years, is making cappuccino in his shop. Together with Alista and Adam Ponti, he founded the first Indonesian warkop in Zurich, Switzerland, which he named Omnia Coffee.
The Indonesian coffee served in Omnia Coffee make the country the talk of the cafe, once the conversation veers away from finer points of coffee beverages.
"Many of our customers speak Indonesian fluently. Even if they do not, I am touched when they try their best to speak the language," she said.
Among them are her husband and Omnia Coffee co-founder Ponti. His fluent Indonesian reflects his 20 year experience as an old hand in the world of Indonesian coffee.
A former quality control expert for a coffee company in Indonesia, Martin is a Q Grade expert, the highest certificate of its kind for coffee expert.
Also read: Dutch Woman in Yogyakarta Serves Hope in A Bowl of Chicken Noodles
"Switzerland is renowned for world-class coffee machines, though many Swiss coffee drinkers drink the beverage from a fully automatic machine," said Martin. "Coffee machines are as common is Swiss households as rice cookers are in Indonesian homes."
While Swiss coffee machines are as precise as the country's iconic watches, Martin noted that "the best coffees come down to a feel for the coffee and other ingredients. This includes getting the right temperature for the milk as well as the proper amount of coffee."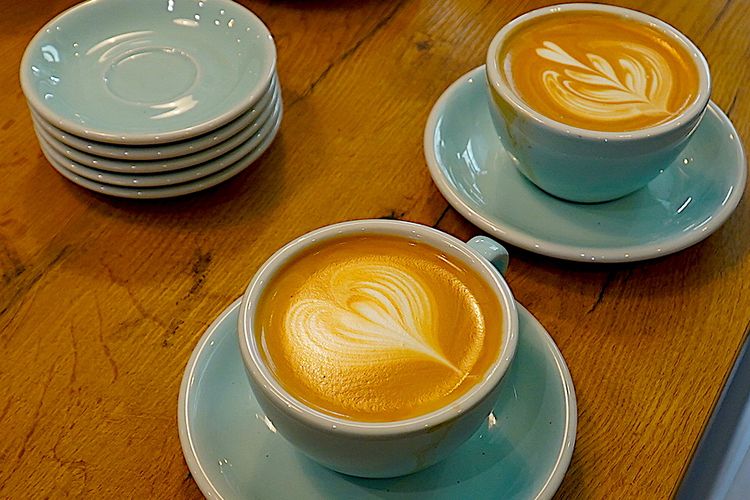 Martin Ponti's Cappuccino at Omnia Coffee Shop, Zurich, Switzerland
Martin's skill is reflected in his ability to make a sweet-tasting cappuccino without adding any sugar.
Ponti freely offered his expertise on Indonesian coffee to customers. "I give courses for everyone, whether they are coffee laymen to professional baristas," he asserted. "My instruments included a coffee roaster made in Bali."
Yet the couple acknowledged that the market for Indonesian cuisine in Switzerland is tough, as Indonesian restaurants in the country eventually shut their doors because of bankruptcy.
Also read: The Story Behind Nasi Uduk, A Culinary Icon of Indonesia's Capital
The Covid-19 pandemic compounded the challenges. "The coffees we serve can only be to go, as are other restaurants and cafes," Alista sighed. "The banter that made Omnia Coffee lively is also limited by health protocols."
But Alista remains optimistic that the Indonesian brews served by Omnia Coffee will continue to draw coffee drinkers keen for well roasted, premium Indonesian coffee. As long as people look to perk up their day with a good cup of coffee, she might be proven to be right.
(Writer: International Contributor, Krisna Diantha Akassa | Editor: Ardi Priyatno Utomo)
Source:
https://www.kompas.com/global/read/2021/02/23/220445570/wanita-semarang-buka-warkop-di-swiss-pelanggan-ikut-belajar-bahasa
Dapatkan update berita pilihan dan breaking news setiap hari dari Kompas.com. Mari bergabung di Grup Telegram "Kompas.com News Update", caranya klik link https://t.me/kompascomupdate, kemudian join. Anda harus install aplikasi Telegram terlebih dulu di ponsel.