PHILADELPHIA, KOMPAS.com – Two Indonesian teenagers in the United States have reported that they were subject to racist abuse in the US city of Philadelphia, in the state of Pennsylvania, as anti-Asian hate crimes continue to surge in the country.
The two teenagers, whose identities have been withheld, said they experienced verbal and physical abuse from their assailants as they were waiting for a train at Philadelphia's City Hall Station on Sunday, March 21.
Also read: Asians in Germany Targets of Racist Stereotypes, Violence
Singled out for attack
"We were waiting for the train when a group of teenagers came up and insulted us. They then slapped our faces," one of the two said to the NBC television station. The second victim agreed and maintained that the attack is racially motivated.
"There were 15 to 20 people in the station when the incident occurred, yet we were the only ones that were attacked."
The incident occurred as police in Philadelphia are investigating a spate of hate crimes in the city.
"We are actively investigating several incidents of hateful and racist vandalism in Chinatown and South [Philadelphia]," said Police Commissioner Danielle M. Outlaw in her Twitter account.
"This national and local surge in racist rhetoric & acts of violence will not be tolerated." She called on those victimized by racially motivated crimes to go to the nearest police station or call 911
Indonesian Consul-General in New York, Arifi Saiman, confirmed the reports. "We have conveyed our concerns about the incident to [the mayor's office] in Philadelphia. We also asked them about the latest developments in the case," he said to VOA Indonesia journalist Eva Mazrieva.
"The [Philadelphia] authorities have been cooperative. They have taken [the case] seriously and have constantly updated [the Consulate-General] about the case's development."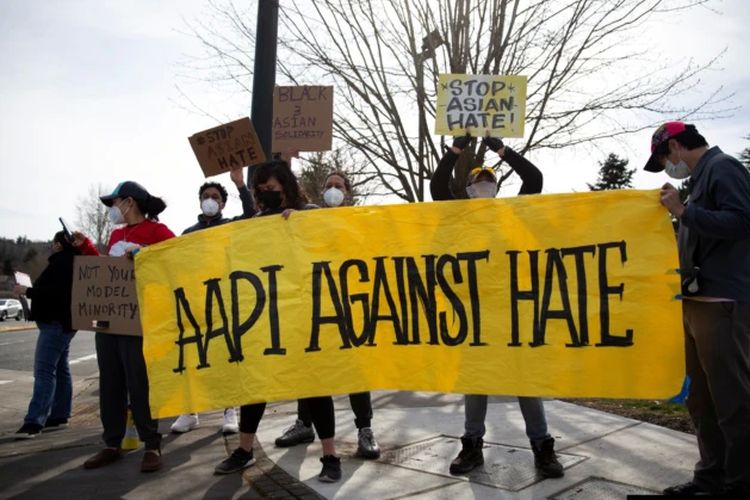 Members of the AAPI Against Hate NGO protest in the town of Newcastle, Washington State, USA (17/3/2021)
The rising number of Anti-Asian hate crimes – which according to the Stop AAPI [Asian American Pacific Islander] Hate NGO surged to 3,795 cases between March 2020 to February 2021 – prompted Indonesian consulates in the United States to issue advisories to Indonesian nationals.
"[The Ministry of Foreign Affairs] is continuously keeping in touch with Indonesian organizations and student associations in the US," said the Ministry in a statement to Kompas.com on Saturday.
Also read: Indonesian Embassy in Japan to Account For Indonesian Nationals After Earthquake
"The [Director] for American and European Intra and Inter-regional Cooperation [Masni Eriza] has touched on the issue with [the US State Department's] Acting Assistant Secretary of State for East Asian and Pacific Affairs Sung Kim. We conveyed our concerns about the situation, and urged [US authorities] to safeguard and protect Indonesian nationals in the United States."
Varied reactions
Indonesian nationals in the US reacted in various ways to the spate of hate crimes, which reached unprecedented levels with a mass shooting in the US city of Atlanta which killed eight people, including six Asian women, on March 16.
Indonesian born Atlanta resident Daniel Fu expressed his shock at the attack. "Atlanta is calmer than other US cities like New York," said the father of two. "But the recent shooting just shows that anyone from certain countries or ethnicities can be targeted [in Atlanta]."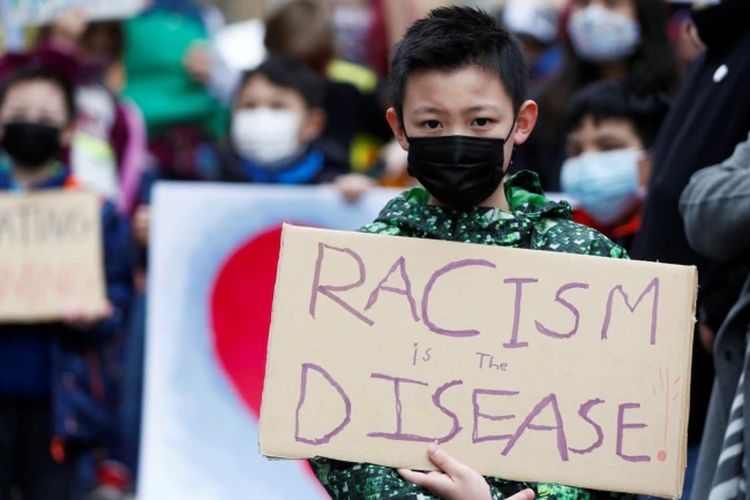 11-year old Ethan Yang holds up a sign at a protest condemning anti-Asian violence in the Chinatown district of Seattle, Washington State, USA (20/3/2021)
His compatriot, Philadelphia denizen Robert Cratius, agreed. He noted that much of the hate came from the US' divisive politics, particularly under former President Donald Trump.
"Unfortunately, [President Trump] normalized terms like KungFlu and the China Virus. Children see and learn from his example, before they eventually imitate him," he lamented. "While bullying is a longtime problem here, I worry that it will worsen as Asians get scapegoated for Covid-19."
But one overseas Indonesian, San Diego based real estate agent Agatha Bun, struck a more defiant tone. "Do not let terror in any form win!" she said, and maintained that there is nothing to fear.
Also read: Nearly 3,000 Indonesians Abroad Test Positive for Covid-19
"There is a lot of intolerance, many people believe hoaxes, while political leaders incite hatred, especially among the ignorant. But if we take all these [anti-Asian] incidents to heart, then it will be unhealthy to one's body," added the mother of two.
Stop AAPI Hate noted that Asian women are 2.3 times more likely to experience hate crimes than men.
(Editors: Danur Lambang Pristiandaru, Aditya Jaya Iswara)
Sources:
https://www.kompas.com/global/read/2021/03/27/105334170/2-wni-jadi-korban-kekerasan-verbal-dan-fisik-di-as-ini-tanggapan-kemenlu?page=all#page2.
https://www.kompas.com/global/read/2021/03/21/233530270/sentimen-anti-asia-meningkat-bagaimana-nasib-wni-di-as?page=all#page2.
Dapatkan update berita pilihan dan breaking news setiap hari dari Kompas.com. Mari bergabung di Grup Telegram "Kompas.com News Update", caranya klik link https://t.me/kompascomupdate, kemudian join. Anda harus install aplikasi Telegram terlebih dulu di ponsel.