JAKARTA, KOMPAS.com – Indonesia's bid to gain herd immunity against the Covid-19 pandemic might run into a snag. Minister of Health Budi Gunadi Sadikin has warned of vaccine shortages in April 2021, following delays in the shipment of the AstraZeneca vaccine to the country.
Two parties that make up President Joko Widodo's coalition government has announced their readiness to support his eldest son Gibran Rakabuming Raka, should the new mayor of the Central Java city of Solo make a run for Governor of Jakarta in 2024.
And Indonesia repatriated 16 Indonesian members of Jemaah Tabligh in India, nearly a year after they were detained for participating in the organization's high risk rally in the country in April 2020. This and more on Indonesia Highlights:
Indonesian Minister of Health Budi Gunadi Sadikin inspects a vaccination drive at a public health center (puskesmas) in Manado, North Sulawesi, Friday (5/3/2021).
Indonesian Minister of Health Warns of Critical Covid-19 Vaccine Shortages
Indonesian Minister of Health Budi Gunadi Sadikin has warned that Indonesia is facing a critical shortage of the Covid-19 vaccine in April 2021.
"[Indonesia's vaccine stockpiles] will be reduced to 7.6 million doses of the Sinovac vaccine," Budi warned. "Since we have been carrying out 500 thousand, even 600 thousand vaccinations a day, this supply will run out in 15 days," Budi said.
"This shortage is caused by reports of a vaccine embargo in India, which brought about by delays to two shipments of AstraZeneca's Covid-19 vaccine to Indonesia."
He explained that the British pharmaceutical company is expected to send 2.5 million doses of the vaccine to Indonesia on March 25, with another 7.8 million doses earmarked for next April.
The dosages are the second and third waves of the AstraZeneca vaccine, after the company sent a first wave of 1.1 million doses earlier this March.
"The government received word from the GAVI-Covax facility, which is the provider of the AstraZeneca vaccine for developing and poor countries, that the shipments are still pending," Budi added.
"The AstraZeneca vaccine is manufactured in India. Indian authorities, especially at state levels, have kept the vaccines from leaving the country, after they experienced a surge in cases." The crisis forced GAVI-Covax to delay their shipment.
The 1.1 million doses of the AstraZeneca vaccine are set to expire in May 2021. Indonesia has allocated the AstraZeneca vaccines to seven provinces, among them Jakarta, East Java and Bali.
Source:
https://nasional.kompas.com/read/2021/03/27/21490761/menkes-vaksin-covid-19-yang-kita-punya-bulan-depan-sedikit-sekali?page=all#page2.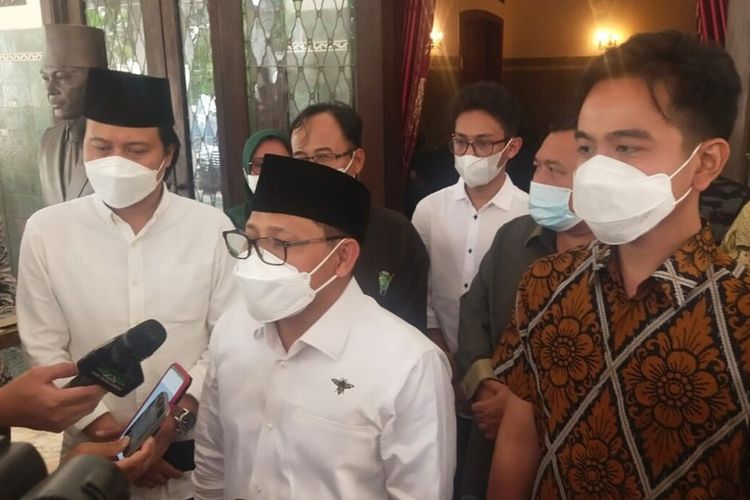 National Awakening Party (PKB) chief Muhaimin Iskandar meet with new Solo Mayor Gibran Rakabuming Raka on Wednesday, (24/3/2021).
Indonesian Political Parties to Back Presidential Son's Run for Jakarta Governor in 2024