JAKARTA, KOMPAS.com – Like other aspects of the Chinese or Lunar New Year, the foods laid out for banquets to mark this festive occasion is rife with symbolism. This is no less the case with glutinous rice cakes, a Chinese New Year staple savored in Indonesia and elsewhere.
"Glutinous rice cakes have symbolized hope since its inception in the 3rd century BC China during the time of the Han Dynasty," said Oey Tjin Eng, a Chinese cultural expert and stalwart of the Chinese community in Tangerang, the provincial capital of Banten province.
"These sweetcakes started off as rations for the emperor's army, due to their sweet taste and lengthy six month shelf life. Metaphorically speaking, they are still rations that can get us through our journey through the new year."
The 76-year old added that "the glutinous rice cakes are also a symbol of hope which can sustain us through the Covid-19 pandemic. We can also add a tangerine for luck."
Also read: Chinese New Year 2021: 5 Unique Traditions and Their Meanings
Aside from glutinous rice cakes, various types of fish, such as catfish, crucian carp, and milkfish or are also fixtures in Chinese New Year meals. The China Highlights media website said this is due to the homophonic words for the fish and economic gain.
"[The] Chinese [word for fish], yu, sounds like surplus," noted the China Highlights website.
"Chinese people always like to have a surplus at the end of the year, because they think if they have managed to save something at the end of the year, then they can make more in the next year."
Among the species favored for Chinese New Year meals include catfish, crucian carp, and Chinese mud carp or milkfish.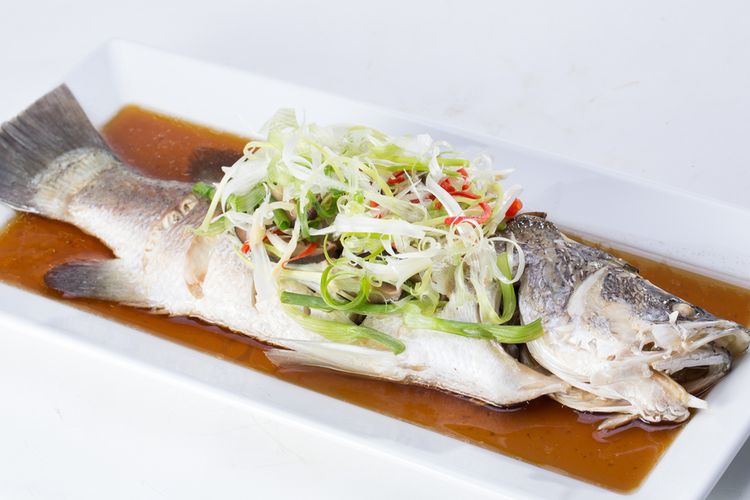 A steamed fish, a typical way to prepare milkfish, crucian carp or catfish for Chinese New Year banquets
Also read: Covid-19: Government Calls for Low-Key CNY Celebrations in Indonesia