KOMPAS.com - China's new law allowing its coast guard to "open fire" on foreign vessels is causing serious anxiety in the Philippines, Vietnam and Japan. The move may help China to create a quasi-military presence even in sea areas where its navy is absent, analysts say.
The Philippines, one of several countries with competing claims to portions of the South China Sea, has lodged a formal protest describing the law as "a verbal threat of war."
Japanese Defense Minister Nobuo Kishi has said that Japan holds "major doubts" about the law and regards it as "absolutely unacceptable."
The law gives China's coast guard, technically meant for policing the seas, authority to board and inspect foreign vessels in waters claimed by China and to demolish any structures built on Chinese-claimed reefs.
Also read: Foreign Ships Continue Illegal Fishing in Indonesia's North Natuna Sea
The coast guard has also been authorized to create temporary exclusion zones "as needed" to stop foreign vessels and personnel from entering Chinese-claimed waters.
Implications for others
The move has implications for Vietnam, Malaysia, Indonesia and the Philippines, all of which have long-standing claims to portions of the South China Sea. China claims jurisdiction over almost all of the resource-rich and strategically important body of water.
"It is not only about Taiwan and the South China Sea, but also about the territorial claim it holds against Japan over the Senkaku (Diaoyu) Islands in the East China Sea," Yoichiro Sato, professor at the Ritsumeikan Asia Pacific University in Japan, told VOA.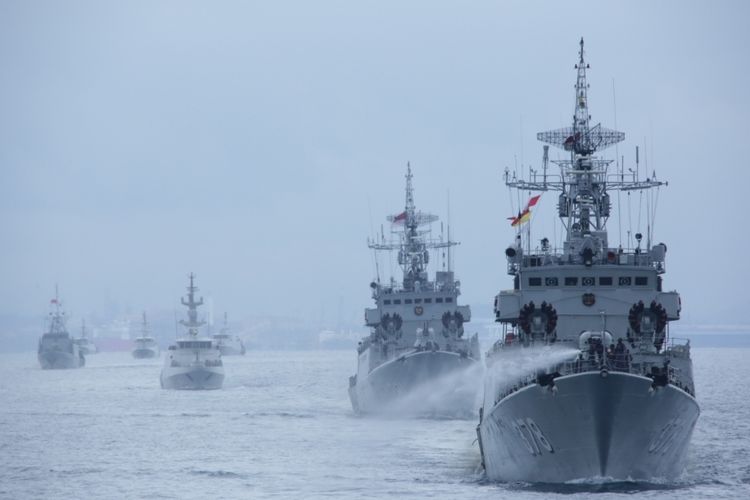 Indonesian Navy ships on the South Natuna Sea, Wednesday (25/11/2020)
Collin Koh Swee Lean, research fellow at the Institute of Defense Studies in Singapore, said the new law gives Beijing a certain legal cover for its actions in the South China Sea.