JAKARTA, KOMPAS.com – The Indonesian National Police will form a special team to investigate the deaths of six Islamic Defenders Front [FPI] militants who were killed by the police on December 7, 2020.
Police spokesman Inspector General Argo Yuwono confirmed that Indonesian National Police Chief General Idham Aziz will form the team on Friday, January 8, 2020, after the National Commission on Human Rights [Komnas HAM] released its findings on the case.
"The special team will investigate Komnas HAM's report that investigators committed serious human rights violations, after it determined that four of the militants were already in police custody when officers killed them," Argo said.
While he insisted that the team will do its work in a "professional, transparent manner," Argo maintained that "Komnas HAM's report stated that the militants illegally carried weapons, forcing the police to kill them in self defense. The officers also acted on their own initiative."
Also read: Indonesia Officially Disbands the FPI
Komnas HAM Commissioner Choirul Anam determined that while two FPI members died in an armed standoff against the police, the deaths of four of their fellow militants is a serious human rights violation that should be brought before a criminal court.
"[Komnas HAM] found evidence that the police at least made no efforts to minimize loss of life, and at worst committed an unlawful or extrajudicial killing." The police and the FPI have different versions of the shootout, which took place at a toll road outside Jakarta.
The police's reconstruction of the incident described how the FPI attacked first and shot at investigators. But the FPI argued the police's official version of events, as the group maintained that it does not issue firearms to its members.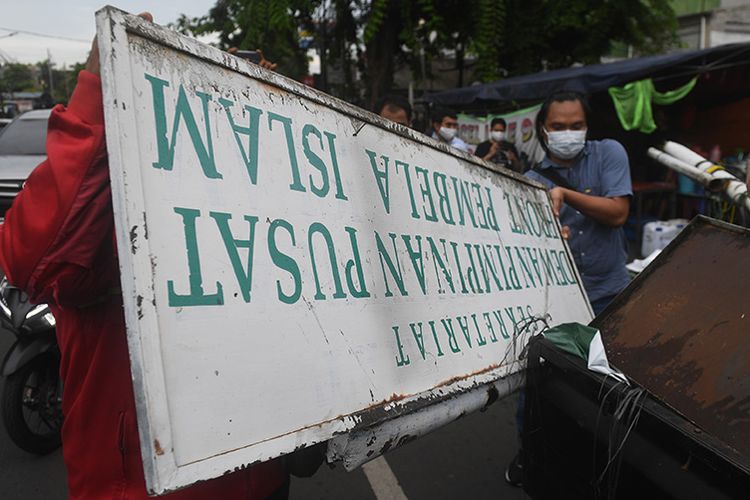 FPI signposts taken down at the groups offices in Petamburan, Central Jakarta, Wednesday (30/12/2020)
Also read: Indonesian National Police Outlaws FPI Symbols and Content
The Indonesian government outlawed the FPI on December 30, 2020, more than a month after tensions between authorities and the FPI increased when its chief Rizieq Shihab repeatedly flaunted health protocols after his return from exile in Saudi Arabia last November.
Coordinating Minister for Political, Legal, and Security Affairs Mahfud MD supervised the issuing of a joint ministerial decree (SKB) by six ministers or officials with equivalent rank.
The officials who signed the decree included Minister of Communications and Informatics Johnny G. Plate, Attorney General ST Burhanuddin, and Idham Aziz as chief of the Indonesian police, as well as National Counterterrorism Agency [BNPT] head Boy Rafli Amar.
(Writers: Devina Halim, Achmad Nasrudin Yahya | Editors: Icha Rastika, Kristian Erdianto)
Sources:
https://nasional.kompas.com/read/2021/01/08/22095821/tewasnya-4-anggota-laskar-fpi-dinyatakan-pelanggaran-ham-kapolri-bentuk-tim?page=all#page2.
https://nasional.kompas.com/read/2021/01/08/17394461/komnas-ham-empat-laskar-fpi-tewas-dalam-penguasaan-aparat.
Dapatkan update berita pilihan dan breaking news setiap hari dari Kompas.com. Mari bergabung di Grup Telegram "Kompas.com News Update", caranya klik link https://t.me/kompascomupdate, kemudian join. Anda harus install aplikasi Telegram terlebih dulu di ponsel.