JAKARTA, KOMPAS.com – Live in the lap of luxury at these two resorts located in close proximity to the famous Yogyakarta temple of Borobudur.
The Borobudur Temple reopened to tourists on June 25 and has been limiting the number of visitors to the tourist attraction every day.
Rather than finding yourself in an unlucky spot of not being allowed entry to the Yogyakarta temple, there are two nearby resorts that can give you a lead the next time around.
Amanjiwo Resort and Plataran Borobudur Resort & Spa are both located less than 5 kilometers from the well-known tourist attraction in Indonesia.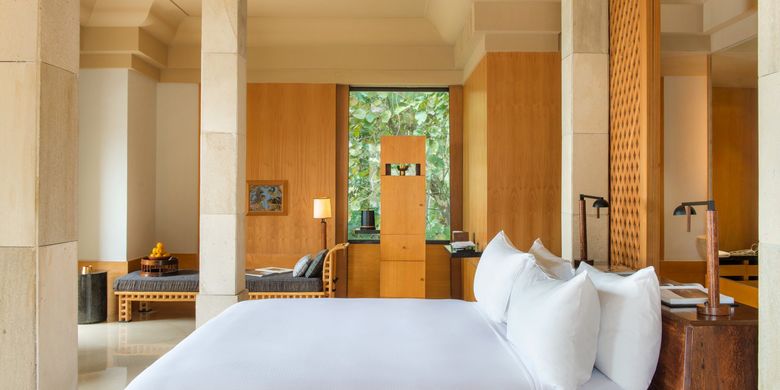 1. Amanjiwo
This five-star Yogyakarta resort is located at the Majaksingi Village, Borobudur, Magelang, and is teeming in many Java-centric traditional concepts as reflected in their open-air restaurant and spa treatments.
Guests have the option of rooms with distinct and appealing designs. If you stay at the Dalem Jiwo Suite, you will have a personal entrance, private parking, and Wi-Fi access.
Moreover, this suite type is complete with two rooms, a living room, a bathroom with a bathtub, a bar, a pavilion, a private swimming pool, and your own butler service.
To enjoy views of Borobudur Temple, all you have to do is stay in your $4,133-a-night room which gives you intimate sights of the historical monument.
Amanjiwo's $1,878-a-night Borobodur Pool Suite offers similar views of the Borobudur Temple complete with a personal swimming pool, personal garden, sunbathing area, a bar, a pavilion, and bathroom with a bathtub.
Among the facilities and services that guests can enjoy at this Yogyakarta resort are yoga and meditation classes overlooking rice paddies.
When it comes to spa treatments, choose between a body massage, body mask or exfoliation treatments that use honey, rice, and white turmeric.
Distinct dining experience at Amanjiwo
Your luxury stay at the Amanjiwo resort in Yogyakarta extends beyond your room thus you can also expect a one-of-a-kind dining experience during your stay.
Resort guests can sink their teeth in a variety of food dishes from Java, Indonesia, or the West.