JAKARTA, KOMPAS.com – The controversy surrounding Indonesia's Jobs Creation Omnibus Law is not clearing anytime soon, as a number of typos were found in the document after President Joko 'Jokowi' Widodo signed the legislation into law.
But this failed to stop the head of state from aiming high, as his administration stated its intent to host the 2032 Olympics. Yet other events might give Jokowi a rude awakening.
Indonesian national security chief Mahfud MD is set to brief him on the National Commission of Human Rights [Komnas HAM's] findings on the murder of Papuan priest Yeremia Zanambani during the ongoing insurgency in the province last September.
And last but not least, Indonesian firebrand cleric Habib Rizieq Shihab is set to return, ending his three-year exile in Saudi Arabia. Read on for more on these news: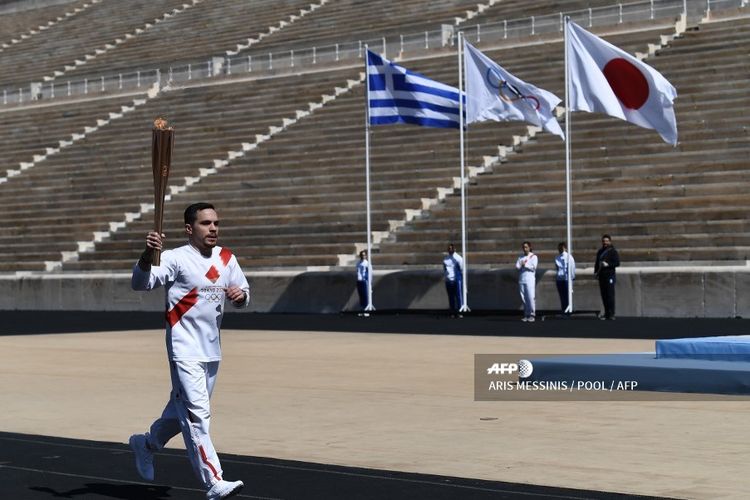 The Olympic torch makes its way to the 2020 Tokyo Olympics in a ceremony on 19/3/2020
1. Indonesia Announces Bid to Host 2032 Olympics
Indonesia is set to raise its profile in the wider world, as President Joko 'Jokowi' Widodo officially announced the country's bid to host the 2032 Olympics.
"[Indonesia's] success in hosting the 2018 Asian Games and the Asian Para Games has shown the world that we are capable of hosting world-class events. It should also bolster our confidence in hosting higher profile events," President Jokowi said on 4 November.
"But we are not hosting the 2032 Olympics because we have something to prove. We genuinely have a sincere desire to raise our profile and good name to the international community." Yet Jokowi is aware that Indonesia faces stiff competition in its bid to host the Games.
"Indonesia will have to compete with Australia, Germany, Qatar, China, India, and a unified [North and South] Korea to host the 2032 Olympics. Most of all, the Games is a momentum for us to step up our efforts as a nation and provide room for improvement," he noted.
"Indonesia should think through its pitch or roadmap if the country wants to be seriously consider itself as a host for the sporting event. "