JAKARTA, KOMPAS.com – The controversy surrounding Indonesia's Jobs Creation Omnibus Law is not clearing anytime soon, as a number of typos were found in the document after President Joko 'Jokowi' Widodo signed the legislation into law.
But this failed to stop the head of state from aiming high, as his administration stated its intent to host the 2032 Olympics. Yet other events might give Jokowi a rude awakening.
Indonesian national security chief Mahfud MD is set to brief him on the National Commission of Human Rights [Komnas HAM's] findings on the murder of Papuan priest Yeremia Zanambani during the ongoing insurgency in the province last September.
And last but not least, Indonesian firebrand cleric Habib Rizieq Shihab is set to return, ending his three-year exile in Saudi Arabia. Read on for more on these news: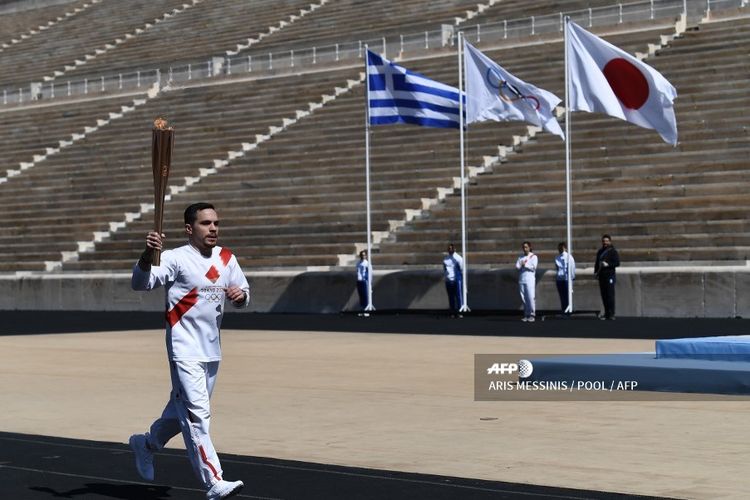 The Olympic torch makes its way to the 2020 Tokyo Olympics in a ceremony on 19/3/2020
1. Indonesia Announces Bid to Host 2032 Olympics
Indonesia is set to raise its profile in the wider world, as President Joko 'Jokowi' Widodo officially announced the country's bid to host the 2032 Olympics.
"[Indonesia's] success in hosting the 2018 Asian Games and the Asian Para Games has shown the world that we are capable of hosting world-class events. It should also bolster our confidence in hosting higher profile events," President Jokowi said on 4 November.
"But we are not hosting the 2032 Olympics because we have something to prove. We genuinely have a sincere desire to raise our profile and good name to the international community." Yet Jokowi is aware that Indonesia faces stiff competition in its bid to host the Games.
"Indonesia will have to compete with Australia, Germany, Qatar, China, India, and a unified [North and South] Korea to host the 2032 Olympics. Most of all, the Games is a momentum for us to step up our efforts as a nation and provide room for improvement," he noted.
"Indonesia should think through its pitch or roadmap if the country wants to be seriously consider itself as a host for the sporting event. "
According to the International Olympic Committee's timeline, the selection process for the 2032 Olympic Games begins in 2023. The committee would then designate the hosts in 2024.
Source:
https://nasional.kompas.com/read/2020/11/04/11104951/mencalonkan-diri-sebagai-tuan-rumah-olimpiade-2032-ini-pesaing-indonesia?page=all#page2.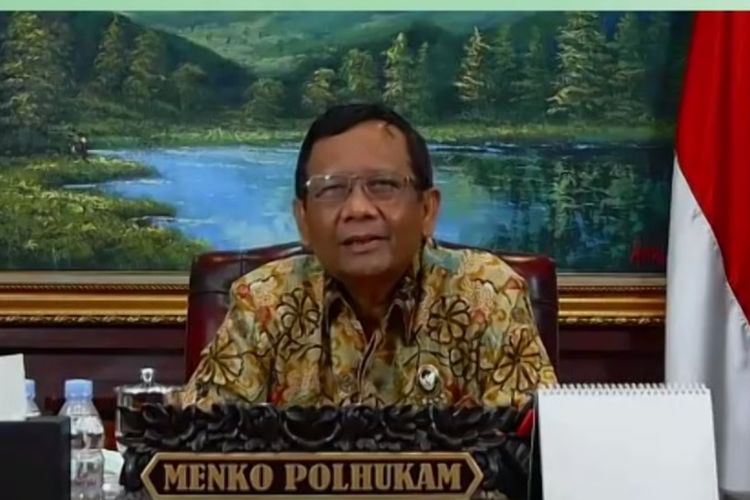 Coordinating Minister for Political, Legal and Security Affairs Mahfud MD gives an online speech to Tanoto Foundation Alumni
2. Indonesian National Security Chief to Brief President Jokowi on Murder of Papuan Priest
Coordinating Minister for Political, Legal and Security Affairs Mahfud MD is expected to brief President Joko Widodo on the outcome of the National Commission on Human Rights [Komnas HAM] investigations on the murder of Papuan priest Yeremia Zanambani on 19 September.
"I will brief President [Jokowi] on Komnas HAM's findings of Yeremia's death in the Papuan district of Intan Jaya, just as I conveyed the outcome of the Fact-Finding Team's report on the incident," Mahfud said in his minisry's YouTube channel on 4 November.
"I will assign [the Indonesian National Police and other law enforcement institution] to follow up the report in an impartial manner."
Komnas HAM's report indicated that a senior officer in the Military District Command Sector for Intan Jaya's Hitadipa area, where Yeremia was killed, was involved in the incident.
"The officer directly committed the extrajudicial torture and killing [of Yeremia]," said Komnas HAM commissioner Choirul Anam earlier this week on 2 November. "Witnesses saw him and three or four other personnel at the scene of the crime."
Anam's findings were based on the gunshot wounds which killed Yeremia. "The shots came from a short-barrelled weapon fired at distances of less than a meter. He was also shot and killed in the narrow confines of a pig sty," he added.
Anam noted that Yeremia's death came in the wake of a firefight between Papuan insurgents suspected to be from the Free Papua Movement [OPM] who killed an Indonesian Army sergeant in a firefight on 17 September and stole his weapon.
"We suspected that Yeremia's killers interrogated him on the whereabouts of the insurgents and the weapons they killed. There is evidence that the suspects targeted him before his death, as one of them called Yeremia as 'one of [the Army's] enemies.'"
Yeremia was known to be outspoken about the effects of the insurgency on Papua's indigenous people, particularly after two of his relatives went missing during the conflict.
Source:
https://nasional.kompas.com/read/2020/11/04/18101191/mahfud-akan-sampaikan-temuan-komnas-ham-soal-pendeta-yeremia-ke-presiden?page=all#page2.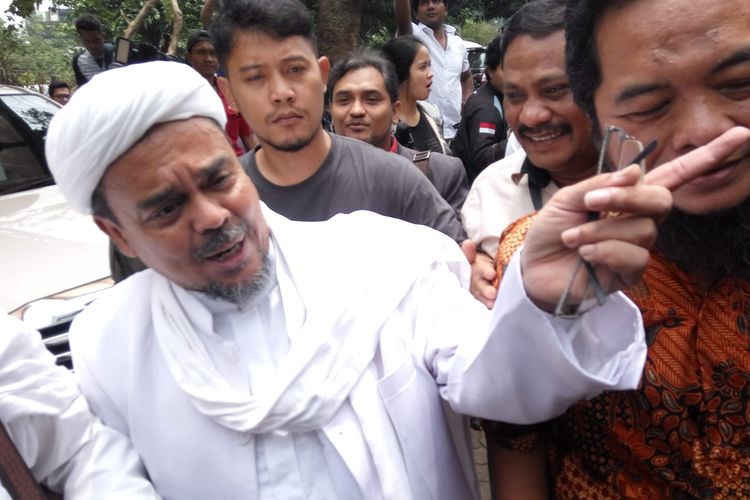 FPI chief Habib Rizieq Shihab
3. Exiled FPI Head Rizieq Shihab Announces Homecoming to Indonesia
The Islamic Defenders Front [FPI] has announced that its head Rizieq Shihab will return to Indonesia on 9 November, ending his three-year exile in Saudi Arabia.
The news comes after the FPI was spotted joining other Muslim groups in protests before the French Embassy in Jakarta.
"Thank God, the long-awaited day when Grand Imam Habib Rizieq Shihab returns [to Indonesia] and rejoins his [FPI] brethren will soon come," the FPI said in a press release dated 3 November, as quoted by Kompas TV.
FPI spokesman Munarman confirmed the news. "Rizieq is now free to leave Saudi Arabia, as he no longer has issues there," he said. "His travel documents are also in order, which means he is cleared to return to Indonesia."
Rizieq claimed that the Saudi Arabian and Indonesian governments conspired to prevent his return to Indonesia, a charge Jakarta denies
Rizieq fled to Saudi Arabia in 2017, after the Indonesian National Police launched investigations against him related to pornographic acts that were only recently called off.
Rizieq and the FPI has gained notoriety for using Islam as a pretext to terrorize businesses and individuals alike in Jakarta and other Indonesian cities since their founding in August 1998.
Source:
https://nasional.kompas.com/read/2020/11/04/08334221/fpi-rizieq-shihab-akan-umumkan-kepulangan-live-dari-mekkah.
Dapatkan update berita pilihan dan breaking news setiap hari dari Kompas.com. Mari bergabung di Grup Telegram "Kompas.com News Update", caranya klik link https://t.me/kompascomupdate, kemudian join. Anda harus install aplikasi Telegram terlebih dulu di ponsel.