JAKARTA, KOMPAS.com – Live in the lap of luxury at these two resorts located in close proximity to the famous Yogyakarta temple of Borobudur.
The Borobudur Temple reopened to tourists on June 25 and has been limiting the number of visitors to the tourist attraction every day.
Rather than finding yourself in an unlucky spot of not being allowed entry to the Yogyakarta temple, there are two nearby resorts that can give you a lead the next time around.
Amanjiwo Resort and Plataran Borobudur Resort & Spa are both located less than 5 kilometers from the well-known tourist attraction in Indonesia.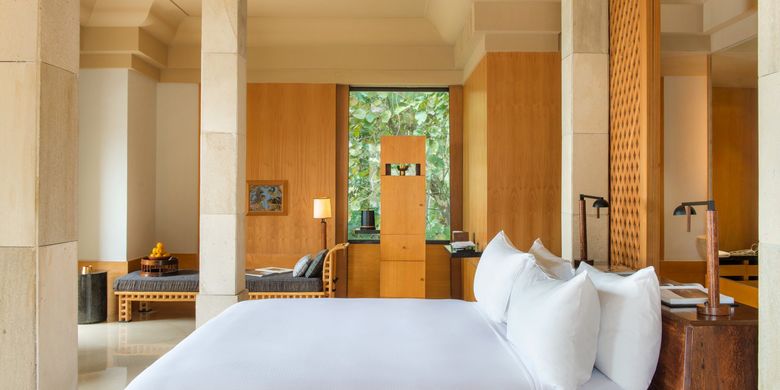 1. Amanjiwo
This five-star Yogyakarta resort is located at the Majaksingi Village, Borobudur, Magelang, and is teeming in many Java-centric traditional concepts as reflected in their open-air restaurant and spa treatments.
Guests have the option of rooms with distinct and appealing designs. If you stay at the Dalem Jiwo Suite, you will have a personal entrance, private parking, and Wi-Fi access.
Moreover, this suite type is complete with two rooms, a living room, a bathroom with a bathtub, a bar, a pavilion, a private swimming pool, and your own butler service.
To enjoy views of Borobudur Temple, all you have to do is stay in your $4,133-a-night room which gives you intimate sights of the historical monument.
Amanjiwo's $1,878-a-night Borobodur Pool Suite offers similar views of the Borobudur Temple complete with a personal swimming pool, personal garden, sunbathing area, a bar, a pavilion, and bathroom with a bathtub.
Among the facilities and services that guests can enjoy at this Yogyakarta resort are yoga and meditation classes overlooking rice paddies.
When it comes to spa treatments, choose between a body massage, body mask or exfoliation treatments that use honey, rice, and white turmeric.
Distinct dining experience at Amanjiwo
Your luxury stay at the Amanjiwo resort in Yogyakarta extends beyond your room thus you can also expect a one-of-a-kind dining experience during your stay.
Resort guests can sink their teeth in a variety of food dishes from Java, Indonesia, or the West.
The alluring factor of Amanjiwo's dining experience includes its restaurant design which faces luscious rice paddies and traditional gamelan music in the background.
For a more intimate dining adventure, you can picnic at the top of Galangan plantation near the Progo River, in your own room, or in less-crowded places accompanied by more gamelan music.
Culture and history included
Only a 25-minute walk from the resort, guests can easily access the Borobudur Temple from Amanjiwo.
Once you have visited the historic Yogyakarta temple, you can choose to go trekking or walk around the Mount Menoreh area.
Another Yogyakarta temple that you can encounter is the Selogriyo Temple from the 8th century at the foothills of Mount Sumbing.
If you book a stay at the resort at certain times of the year, you can partake in some local celebrations and festivals by residents of the surrounding villages.
Otherwise, you can take in the touches of local culture exuding from every corner of this resort in Yogyakarta.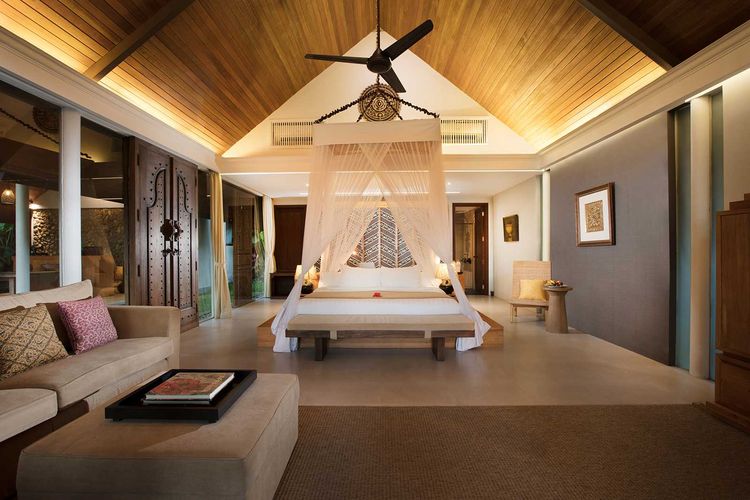 2. Plataran Borobudur Resort & Spa
Book the Duplex Royal Pool Villa at Plataran Borobudur Resort & Spa in Dusun Tanjungan, Magelang to experience personal luxury in Yogyakarta.
The two-story villa is an ideal accommodation for a family vacation that features two spacious bedrooms, a bathroom with bathtub and shower, a garden, and a personal swimming pool.
Facilities at this Yogyakarta resort include Wi-Fi access, bathroom amenities including a hairdryer, a coffee and tea maker as well as a minibar.
Feel the finest way of living at this resort in Yogyakarta for $581 (Rp 8,500,000) a night inclusive of breakfast and taxes.
Another option is its Grand Spa Pool Villa that allows you to have a secluded spa treatment with your partner in addition to a dining room, garden, and private swimming pool which is priced at $513 (Rp 7,500,000) a night inclusive of breakfast and taxes.
Plenty of recreation
Aside from being a luxury and comfortable resort in Yogyakarta, Plataran Borobudur Resort & Spa offers plenty of activities for guests.
One activity is batik-making where guests are taught how to practice this ancient tradition but are also taught its history and how to wear it in a traditional fashion.
If you have heard of Indonesian herbal drinks then rejoice because the resort offers classes on how to make the country's beloved jamu including lessons on the benefits of roots, leaves, and fruits.
Thematic restaurants
There are two thematic restaurants to choose from during your vacation to this Yogyakarta resort: Patio Colonial Hall and The Kastil.
The Patio Colonial Hall offers views of the Borobudur Temple at a restaurant designed with magnificence and splendor in mind.
The theme behind The Kastil takes guests on a dining journey in a luxury room of a European castle.
With the ongoing coronavirus pandemic, guests at both resorts in Yogyakarta are required to adhere to Covid-19 health protocols.
The rules include wearing a face mask, regularly washing your hands with soap, social distancing, and staying home if you experience a fever or have a body temperature higher than 37.3 degrees Celsius.
(Writer: Nabilla Ramadhian | Editor: Kahfi Dirga Cahya)
Source: https://travel.kompas.com/read/2020/07/15/091900327/pilihan-2-resort-mewah-dekat-candi-borobudur?page=all#page2
Dapatkan update berita pilihan dan breaking news setiap hari dari Kompas.com. Mari bergabung di Grup Telegram "Kompas.com News Update", caranya klik link https://t.me/kompascomupdate, kemudian join. Anda harus install aplikasi Telegram terlebih dulu di ponsel.