KOMPAS.com – Stargazers in Indonesia and elsewhere around the world are in for a cosmic spectacle, after a giant asteroid is set to go into Earth's orbit.
Indonesian National Institute of Aeronautics and Space (LAPAN) researcher Rhorom Proyatikanto said that Asteroid 2020 ND will reach its closest distance to Earth at 5,086,328 kilometers on July 24.
"[Asteroid 2020 ND] is hurtling to Earth at 48,000 kilometers an hour. The distance is 15 times that between the Earth and the Moon," said Rhorom to Kompas.com of the asteroid.
Also read: 'Ring of Fire' Solar Eclipse to be Visible from Indonesia on June 21
With an estimated length of 160 to 200 meters and a diameter of 120-160 meters, the asteroid is 1.5 times bigger than the National Monument (Monas) in Gambir, Jakarta.
NASA classified the asteroid as a PHA or potentially hazardous satellite due to its size, proximity to Earth, and the dangers of its impact on the planet.
But Rhorom disagreed. "Asteroid 2020 ND is what we call an Apollo [asteroid], as it has been traced for over a year and has cut the Earth's orbit."
But if anyone fears the sky is falling, Rhorom assured them to take it easy. "The asteroid is still too far from the Earth to do harm. Not only that, we can still see it from Indonesia."
"We can see [Asteroid 2020 ND] between sunset [on the evening of July 24] until sunrise [on July 25]."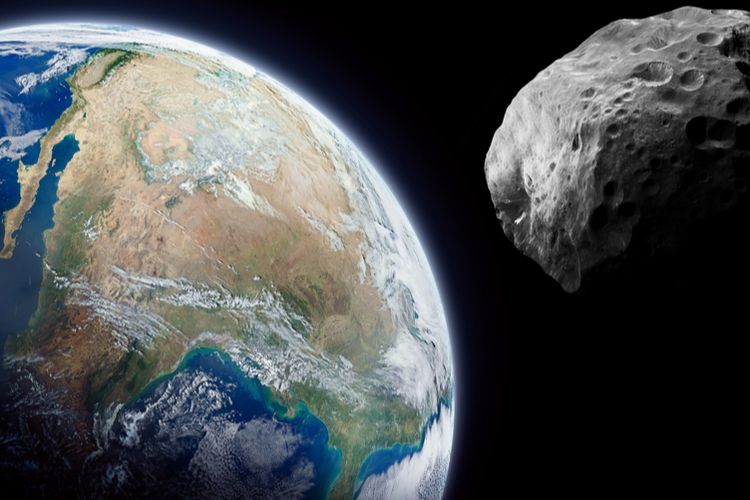 An asteroid heading towards the Earth
Also read: Series of Earthquakes Rattles Indonesia