KOMPAS.com – A series of earthquakes struck Indonesia over the past two days, with the most recent measuring magnitude 5 on the Richter scale and jolting residents of Nias Island off the north end of Sumatra on Wednesday, July 8. The quake was also felt in North Sumatra.
"The epicenter of the quake is 47 kilometers southwest of Nias, at a depth of 14 kilometers," said Meteorology, Climatology and Geophysics Agency [BMKG] official Buha M. Simanjuntak.
"The earthquake did not have the potential to trigger a tsunami. But it made itself felt in Nias."
Also read: Indonesia's Most Active Volcano Erupts, Activity Caught on Camera
"The earthquake was pretty strong," said Indah, a resident of the town of Gunungsitoli in Nias. "I thought I had a headache, but it turned out to be the tremors."
"I felt the [earthquake] when I was sitting down," said Nias islander Restu. "It felt like I was on a swing."
The BMKG urged the public to stay calm and not to be affected by hoaxes.
The earthquake is the latest of a series of tremors that have been rocking Indonesia since Tuesday, July 8. The tremors struck six locales, among them Nias, Bengkulu, Pangandaran, West Java, Rangkasbitung, Banten, Jepara, Central Java and Donggala, South Sulawesi.
Greater Jakarta area
The 5.4 magnitued earthquake off Rangkasbitung has made itself felt in Jakarta and its satellite towns like Bogor and Depok.
"[The earthquake] made me feel like I would fall head first," said Palupi in Bogor, West Java.
"Unlike most earthquakes which would shake the ground, this earthquake feels like it is going up and down," said Jakarta resident Shinta.
Also read: Rising Waters on Ijen Crater Kills Sulphur Miner
For Depok resident Kristianto Purnomo, the earthquake was more tangible.
"I felt the ground move. I even saw the chairs and television in my living room move."
The BMKG said the earthquake occurred offshore.
"The [quake] was detected 18 kilometers northwest of Rangkasbitung," said BMKG official Rahmat Triyono. "It was caused by friction in the Indo-Australian plates under the Eurasian plates."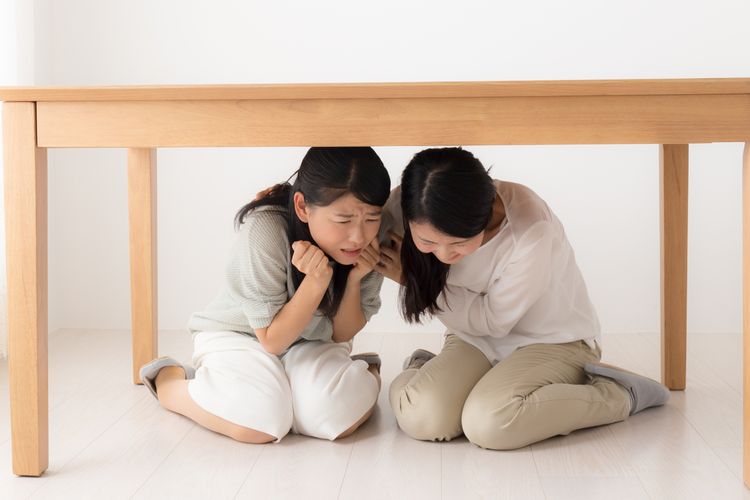 An earthquake simulation
The biggest strike
BMKG noted that the biggest earthquake to hit Indonesia over the past 24 hours occurred near the Central Java town of Jepara.
"The 6.1 magnitude earthquake struck 53 kilometers off [Jepara]," said BMKG Earthquake and Tsunami Mitigation head Daryono.
"The earthquake has been felt as far afield as Sumatra, Bali and Lombok, because it is a deep fault earthquake. In this case, it occurred at a depth of 578 kilometers."
Indonesia is long known to be vulnerable to earthquakes, volcanic activity, and other natural disasters due to its geographical location in the Pacific Ring of Fire.
(Writers: Hendrik Yanto Halawa, Luthfia Ayu Azanella, Sabrina Asril, Gloria Setyvani Putri| Editors: Abba Gabrillin, Rizal Setyo Nugroho, Sabrina Asril, Gloria Setyvani Putri)
Sources:
https://regional.kompas.com/read/2020/07/08/12260801/rabu-siang-gempa-bumi-terjadi-di-nias-utara.
https://www.kompas.com/tren/read/2020/07/07/145700265/5-gempa-berkekuatan-40-61-m-yang-guncang-wilayah-indonesia-hari-ini?page=all#page2.
https://megapolitan.kompas.com/read/2020/07/07/11562401/bmkg-gempa-bumi-berkekuatan-5-4-m-terjadi-di-barat-daya-banten.
https://www.kompas.com/sains/read/2020/07/07/190200123/gempa-rangkasbitung-terasa-hingga-jakarta-kenapa-rasanya-bergoyang-naik?page=all.
https://www.kompas.com/sains/read/2020/07/07/074013023/gempa-hari-ini-m-61-guncang-pulau-jawa-bali-lombok-dan-sebagian-sumatera.
Dapatkan update berita pilihan dan breaking news setiap hari dari Kompas.com. Mari bergabung di Grup Telegram "Kompas.com News Update", caranya klik link https://t.me/kompascomupdate, kemudian join. Anda harus install aplikasi Telegram terlebih dulu di ponsel.