MANILA, KOMPAS.com - Ferdinand Marcos Jr, whose dictator father and namesake plundered and brutalized the Philippines, has reached the end of a decades-long campaign to rehabilitate the family brand: the presidency.
Marcos Jr, known by his nickname "Bongbong", succeeded Rodrigo Duterte in the top job on Thursday, June 30, after his landslide victory in last month's elections.
His win followed relentless whitewashing of the family's past and leveraging of alliances with rival families that control large swathes of the country.
In the 36 years since a popular uprising toppled the patriarch and chased the family into US exile, the Marcoses have been rebuilding their political profiles.
'Carefree and lazy'
Despite his own father's concerns about his "carefree and lazy" nature earlier in life, Marcos Jr, 64, made it to the ultimate post.
Also read: Philippines: Marcos Jr. to Stand by South China Sea Ruling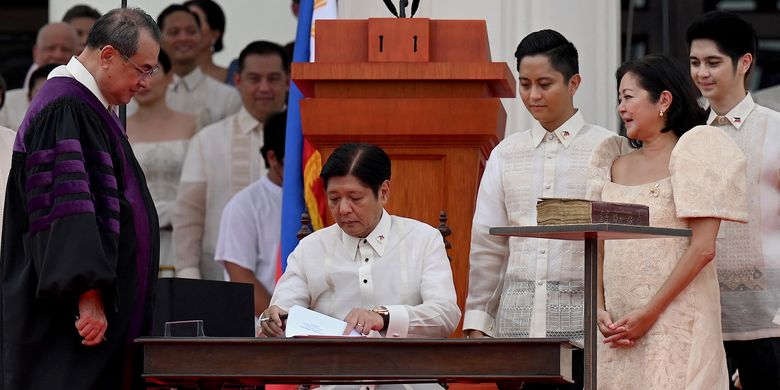 Members of his family (right) look on as new Philippine President Ferdinand Marcos Jr. (seated center) is sworn in as the country's new leader, during his inauguration ceremony at the National Museum in Manila on June 30, 2022. (Photo by JAM STA ROSA / AFP)
After narrowly losing the vice-presidential race to Leni Robredo in the 2016 election, he was determined their rematch in the presidential contest on May 9 would end differently.
Vowing to unify the country, Marcos Jr made sweeping promises on the campaign trail to boost jobs and tackle rising prices in the lower-middle-income country.
Marcos said last month he was "humbled" by his success at the ballot box and vowed to "always strive to perfection".