JAKARTA, KOMPAS.com - Indonesia has no choice but to consign the wreck of the naval submarine KRI Nanggala-402 to the deep, despite President Joko Widodo's order to salvage the vessel and the remains of its crew.
The Indonesian Navy decided to end efforts to raise the ship, after a last ditch effort with the aid of China's People's Liberation Army (PLA) Navy's salvage ships did not succeed in bringing KRI Nanggala-402 to the surface.
"The salvage [operation] is over," Indonesian Navy spokesman Commodore Julius Widjojono plainly said to the Reuters news agency on Wednesday, June 2, as Indonesian Navy officers and their Chinese counterparts held a last meeting to close out their cooperation.
Also read: Initial Attempts to Raise Sunken Indonesian Submarine Fails
"The Indonesian Navy expresses our utmost gratitude to the PLA Navy for sending three ships to aid in the search [for KRI Nanggala-402]," said Indonesian Second Fleet Maritime Security Task Force head Commodore I Gung Putu Alit Jaya.
"The Indonesian Navy and PLA Navy's cooperation in the operations to salvage KRI Nanggala-402 reflects the 'Seaman's Brotherhood' between the world's navies. It is also a precedent in enhancing relations between navies."
The Naval Attache to China's Embassy in Jakarta, Senior Colonel Chen Yongjing, praised the monthlong coordination between the PLA Navy and the Indonesian Navy in their ultimately unsuccessful attempts to salvage KRI Nanggala-402 last May.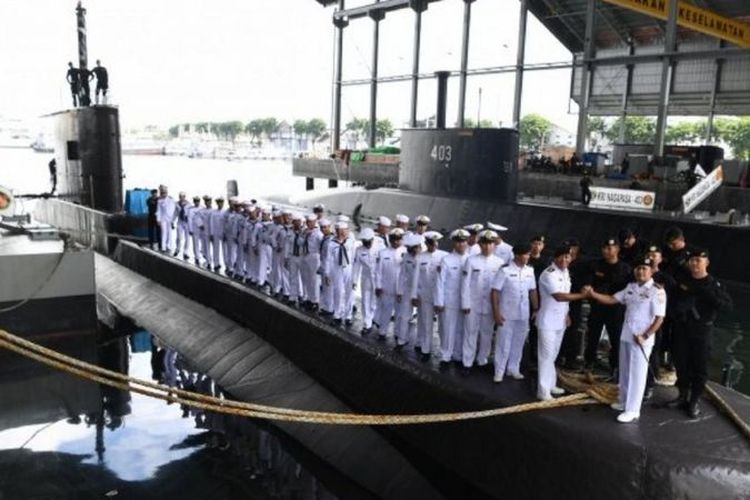 The crew of the KRI Nanggala-402 at their base in Surabaya, East Java Wednesday (20/4/2019)
"[The attempted salvaging] of KRI Nanggala-402 of the feasibility of a humanitarian mission between the PLA Navy and the Indonesian Navy," he said. "The joint exercise breaks new ground in the strategic-comprehensive partnership between both navies."
The PLA Navy deployed the Ocean Tug Nantuo-195, the Ocean Salvage and Rescue Yong Xing Dao-863, and the Scientific Salvage Tan Suo 2 to aid in raising the Indonesian submarine in waters off the north coast of Bali, where it was last detected.
Both ships collected documentation in the form of photos and videos and raised several parts of the KRI Nanggala-402. The finds have been handed over to Indonesian authorities.