JAKARTA, KOMPAS.com – Indonesian Minister of Finance Sri Mulyani Indrawati has urged an increase in the rate of daily vaccinations nationwide to help jumpstart the economy.
"A quick, efficient vaccination process can stimulate economic growth, especially in the first quarter of 2022," she said at a hearing with the House of Representatives' Commission XI on finances, national development planning, banks and other financial institutions.
"Economic growth in 2022 will be influenced by the [rate] of vaccinations and Covid-19 itself. If we do not attain sufficient numbers of vaccinations, then it will affect economic growth for 2022."
Also read: Indonesia Highlights: Indonesia to Extend Travel Restrictions In Java and Bali to May 31 | Indonesia's Covid-19 Vaccination Drive Among Top 20 in the World | Indonesia, Philippines to Maintain Regional Security in Southeast Asia
While Sri Mulyani acknowledged progress has been made, she said the government still has its work cut out for it.
"[The government] has vaccinated about 300 thousand doses of [the Covid-19] vaccine on a daily basis, or 26.89 million doses, a marked increase since the Eid al-Fitr or Idul Fitri holidays. That puts the country 11th on the global list of vaccinations."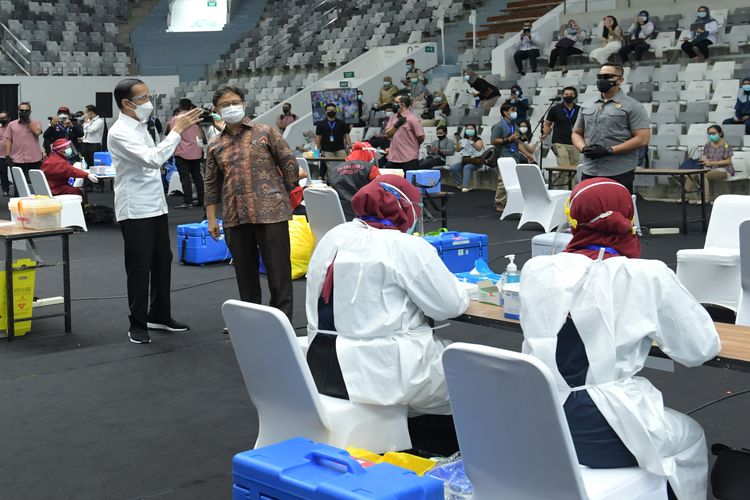 Presiden Joko Widodo (left) and Minister of Health Budi Gunadi Sadikin (middle) survey the mass vaccination of health workers with Sinovac's Coronavac vaccine at Jakarta's Istora Senayan Stadium on Thursday, February 4.
The former Managing Director of the World Bank Group asserted that Indonesia needs to double, even triple the amount of daily vaccinations, to make a difference for the economy.
Also read: Finance Minister Forecast Indonesia's Economic Growth at 8.3 Percent in Q2 Due to Seasonal Factors
"[Indonesia's] vaccination rate has not reached 500 thousand doses, much less one million," Sri Mulyani added. "If we can vaccinate 1 million doses on a daily basis [to the end of the year], then we can attain herd immunity by the first quarter [of 2022]."
Last week, Sri Mulyani projected Indonesia's economic growth to reach between 7.1 to 8.3 percent in the second quarter of 2021, though it experienced a 0.74 percent contraction in the first quarter of the year.