JAKARTA, KOMPAS.com – The National Commission for Post Immunization Incidents or KIPI is set to autopsy the remains of 22 year-old Trio Fauqi Virdaus, a Jakarta resident who died hours after he was vaccinated with a Covid-19 vaccine from the AstraZeneca pharmaceutical company.
KIPI head Hindra Irawan plans to carry out the procedure on Monday, May 24. "We will carry out the autopsy then, as we need to prepare the operating room as well as equipment such as reagents and other chemical reagents," he said on the Kompas TV talkshow "Rosi" on Thursday evening.
"We cannot guarantee that the results will come out quickly because we need to analyze the results thoroughly. We also have to take the advanced decomposition [of Trio's remains] into account, and consider its effects on the accuracy of the autopsy."
Also read: Indonesia Halts Use of an AstraZeneca Covid-19 Batch After Death of Vaccine Recipient
Trio's older brother Viki is adamant that the procedure should be carried out, especially as his family already given their consent. "My father conveyed his wish that [Trio's] remains should be autopsied," he said.
The procedure will be carried out nearly three weeks following Trio's death on May 6.
Hindra added that Trio is one of 30 people across Indonesia who died after receiving the Covid-19 vaccine. "27 of the dead passed away after receiving a Covid-19 vaccine from Sinovac, while three died after taking the AstraZeneca vaccine," he asserted.
Hindra maintained that the deaths are not caused by the vaccines. "10 of those who died contracted Covid-19, while 14 others died from heart disease," he said at a hearing with the House of Representatives' Commission IX on Demographic affairs, health, manpower and transmigration.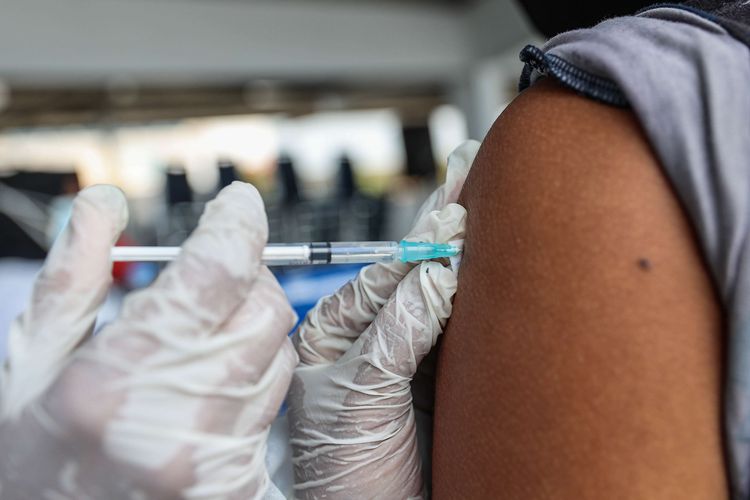 An Indonesian Navy (TNI AL) personnel gets injected with the AstraZeneca vaccine at Jakarta's Tanjung Priok military base on Friday (26/03/2021)
"The remainder died of kidney failure, diabetes mellitus and hypertension." Hindra added that those who died after receiving the AstraZeneca vaccine are similarly accounted for.
"The first known death after taking the AstraZeneca vaccine, 22 year-old [Trio Fauqi Virdaus] died after he felt vaccine side effects such as headaches and fevers," he said.
"However, he refused to be hospitalized although he ran a temperature of 39 celsius, then his condition deteriorated the next day and he died in a clinic."
Hindra added that the second person who died after taking the AstraZeneca vaccine was a 60-year old motorcycle taxi driver. "We suspect that [the deceased] died of pneumonia. Before he received his vaccination, he did not disclose that he was experiencing shortness of breath."
Also read: Indonesian Man Dies After Getting Vaccinated With AstraZeneca's Covid-19 Vaccine
The third person is a 45 year-old from Ambon, Maluku Province. "The person in question complained of fevers, coughs and flu. It turned out that he contracted Covid-19, and was already in a terminal stage," he noted.
"He was vaccinated with the AstraZeneca batch [CTMAV547], which was recently recalled by the government according to media reports."
Meanwhile, Covid-19 Task Force spokesman Wiku Adisasmito announced that the government will use other batches of the AstraZeneca vaccine, following the recall of the CTMAV547 batch.
"The other batches will be allocated to those who have not been vaccinated, so that reach full immunity, with the vaccines' help."
The Food and Drug Agency or BPOM are currently investigating the toxicity of the vaccine and any abnormalities related to the medication.
(Writer: Nirmala Maulana Achmad, Haryanti Puspa Sar, Dian Erika Nugraheny | Editors: Nursita Sari, Diamanty Meiliana
Sources:
https://megapolitan.kompas.com/read/2021/05/21/17310921/senin-pekan-depan-komnas-kipi-otopsi-jenazah-warga-jakarta-yang-meninggal?page=all#page2.
https://nasional.kompas.com/read/2021/05/20/19091041/30-orang-meninggal-usai-vaksinasi-covid-19-komnas-kipi-sebut-karena-penyakit?page=all#page2.
https://nasional.kompas.com/read/2021/05/21/18504991/pemberian-vaksin-astrazeneca-selain-batch-ctmav547-tetap-dilanjutkan.
Dapatkan update berita pilihan dan breaking news setiap hari dari Kompas.com. Mari bergabung di Grup Telegram "Kompas.com News Update", caranya klik link https://t.me/kompascomupdate, kemudian join. Anda harus install aplikasi Telegram terlebih dulu di ponsel.