JAKARTA, KOMPAS.com – Controversy continues to follow AstraZeneca's Covid-19 vaccine to Indonesia, after a young Indonesian man identified as Trio Fauqi Virdaus died 24 hours after he was injected with the vaccine last week on Wednesday, May 5.
The deceased's older brother, Viki, said the 22 year-old's passing has taken him by surprise. "[Trio] was in perfectly good health before he was vaccinated with the AstraZeneca vaccine. He also has no pre-existing conditions," Viki said on Monday, May 10.
Seemingly mundane symptoms
"The worst symptoms he has shown are of the common cold and sore throat, or at worst, typhus. However, he often comes home late, so I suggested that he check his blood pressure in case he was exhausted or lacked sleep."
Viki recalled that Trio felt unwell as he arrived home at 4 pm after his vaccination at the Gelora Bung Karno stadium.
Also read: Indonesia Receives Third Batch of Covid-19 Vaccines From AstraZeneca
"[Trio] said that he felt chills, fever and an unusually severe headache. He also refused my mother's offer to give him an analgesic medication to ease his condition," he said.
"The next morning Trio had the sahur [predawn meal for fasting] at 4.30 am, then his fever worsened and he went into shock. Trio then collapsed so we had to rush him to a hospital."
Viki asserted that his younger brother's condition deteriorated quickly within hours. "By the time a doctor checked Trio's pulse at 12.30 pm, he was already dead."
Viki said he already reported Trio's death to the National Commission for Post Immunization Incidents or Komnas KIPI about Trio's passing, and that he has not heard from them.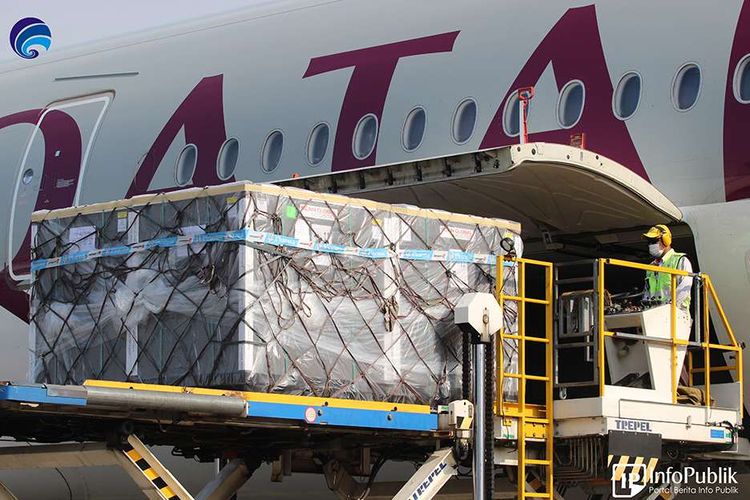 Officials at Soekarno Hatta International Airport receive 1,3 million doses that make up the third batch of AstraZeneca's Covid-19 vaccine on Saturday (8/5/2021)
The fallout
Komnas KIPI head Hindra Irawan Satari begged to differ. "[Komnas KIPI] has not gotten sufficient evidence to connect [Trio Fauqi Virdaus'] death to [AstraZeneca's] Covid-19 vaccination," he said.
"We established this finding following a joint audit with the Jakarta Provincial Administration. We have yet to find anyone who died as a result of the Covid-19 vaccine, as they usually die from other causes. "
Jakarta governor Anies Baswedan waded into the controversy. "I urge the Ministry of Health to investigate [Trio's] death," said the Gerindra Party politician on Monday.
"This incident deserves our attention, as the government is trying to build public confidence in vaccinations. In Europe, the AstraZeneca vaccine is prioritized for people from their 40's to 60's onwards."
Also read: 3.8 Million AstraZeneca Vaccines to Arrive in Indonesia on April 26
Anies urged the Ministry to bolster screening for the vaccine, as it was known to cause blood clots on its recipients.
The deputy head of Parliament's Commission IX on demographics, health, manpower and transmigration Melkiades Laka Lena reiterated Anies. "The government should find the exact causes of his death and explain their findings to the public," he said.
"I have called on the government and the Food and Drug Agency [BPOM] to be careful in using the AstraZeneca vaccine, especially as a number of European countries discontinued its use."
Indonesia has 6,410,500 doses of the AstraZeneca vaccine, which arrived in the country in three batches since last March.
(Writers: Nirmala Maulana Achmad, Singgih Wiryono, Rahel Narda Chaterine | Editors: Sabrina Asril, Irfan Maullana, Dani Prabowo)
Sources:
https://megapolitan.kompas.com/read/2021/05/10/21443031/pemuda-di-jakarta-meninggal-setelah-suntik-vaksin-astrazeneca-kakak?page=all#page2.
https://megapolitan.kompas.com/read/2021/05/10/20444821/pemuda-jakarta-timur-meninggal-setelah-disuntik-vaksin-astrazeneca-anies?page=all#page2.
https://nasional.kompas.com/read/2021/05/10/14521431/pimpinan-komisi-ix-dpr-minta-pemerintah-jelaskan-penyebab-pria-di-jakarta.
Dapatkan update berita pilihan dan breaking news setiap hari dari Kompas.com. Mari bergabung di Grup Telegram "Kompas.com News Update", caranya klik link https://t.me/kompascomupdate, kemudian join. Anda harus install aplikasi Telegram terlebih dulu di ponsel.