The U.S. Secretary of State Antony Blinken spoke with Pruitt and "offered his unwavering support for independent journalists and media organizations around the world and noted the indispensability of their reporting in conflict zones," according to spokesperson Ned Price.
"He expressed relief that the Associated Press team on the ground in Gaza remains safe."
The Israeli military said, without evidence, that it destroyed the building because intelligence operatives within the Islamist militant group, Hamas, were using media offices as "human shields."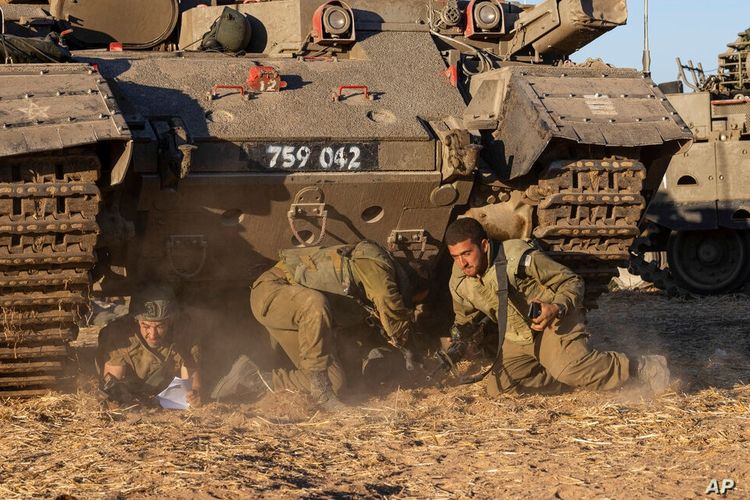 Israeli soldiers take cover under armored vehicles as a siren sounds warning of incoming rockets fired from the Gaza Strip in a staging ground near the Gaza-Israel border (15/5/2021)
"AP's bureau has been in this building for 15 years. We have had no indication Hamas was in the building or active in the building," the news organization responded. "We would never knowingly put our journalists at risk."
Ongoing strikes
Hours earlier, another Israeli airstrike in a heavily populated refugee camp killed at least 10 Palestinians, primarily children. It was the deadliest single aerial attack since the violence began to intensify earlier this week.
Another strike killed at least two people, Palestinian health officials said.
Since the fighting began Monday, at least 145 Palestinians have been killed, including at least 41 children and 22 women, according to Gaza's Health Ministry. At least eight Israelis have been killed in the rocket attacks, including a 6-year-old child.
Egypt sent 10 ambulances into Gaza on Saturday to evacuate some of the nearly 1,100 Palestinians injured in the fighting. The Rafah crossing between Egypt and Gaza is the only border opening not controlled by Israel.
Also read: Indonesia Condemns Israeli Plan to Annex West Bank