JAKARTA, KOMPAS.com – Holiday travelers heading off to Central Java's Kedung Ombo reservoir for a good time during the Eid al-Fitr or Idul Fitri holiday found their plans go tragically wrong, after their boat capsized and left at least six people dead.
Holiday travel in Jakarta is also in the spotlight, after concerns of a Covid-19 outbreak comparable to that in India from Idul Fitri holiday goers caused the prompt closure of the Ancol Amusement Park, Beautiful Indonesia Miniature Park [TMII], and Ragunan Zoo.
And Indonesia and Papua New Guinea are jointly investigating a video showing a number of Papua New Guinea nationals expressing their support for the insurgency in the Indonesian provinces of Papua and West Papua. This and more on Indonesia Highlights: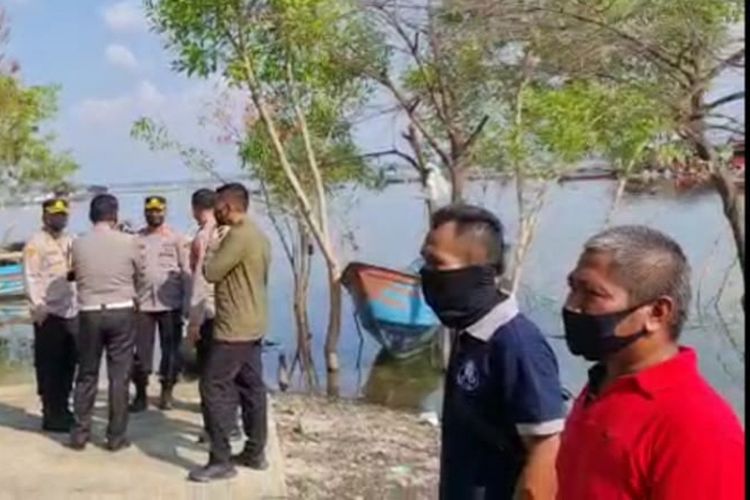 Central Java Regional Police head Inspector General Ahmad Luthfi and his officers confer on the shores of the Kedung Ombo Reservoir after a tourist boat capsized in the waterway on Saturday, (15/5/2021)
Pleasure Boat Capsizes in Central Java's Kedung Ombo Reservoir, Killing 6
A tourist boat in the Kedung Ombo Reservoir in Boyolali regency, Central Java has capsized during an outing on Saturday, May 15, leaving at least six people dead and three others missing.
"The boatwas carrying 20 passengers when it flipped over and went under water," said Central Java Basarnas [National Search and Rescue Agency] branch head Nur Yahya.
"The vessel was heading to a floating restaurant in the center of the reservoir. We suspected that the boat capsized after some passengers attempted to take a selfie on the ship's bow."
Official backlash occurred promptly in the wake of the tragedy.
"Central Java Regional Police chief Inspector General Ahmad Luthfi has ordered the Kedung Ombo tourist sight closed because its management failed to apply proper safety standards and health protocols," said Regional Police spokesman Police Grand Commissioner Iskandar.
"[Kedung Ombo reservoir] also violated the limits on visitor numbers." Joint SAR teams from Basarnas, the military and police, as well as other elements are continuing their search for three people who remain missing in the wake of the disaster.