KOMPAS.com - Israel bombed the house of Yehya Al-Sinwar, the top Hamas Leader in Gaza, early Sunday, on the seventh straight day of hostilities in the area.
It was not immediately clear if Sinwar was home. An Associated Press report said he was "likely in hiding along with the rest of the group's upper echelon."
Israel's air and artillery assaults against Palestinian militants will "continue as long as needed," Israeli Prime Minister Benjamin Netanyahu said Saturday.
"You cannot hide — not above ground, and not underground. Nobody is immune," he said, speaking to the leaders of Hamas in Gaza, and he thanked U.S. President Joe Biden and other world leaders for their support.
Also read: Indonesia to Bring Up the Palestinian Crisis to International Forums
Biden called Netanyahu on Saturday and said he condemned the rocket attacks by Hamas and reaffirmed his support for Israel's right to defend itself from Hamas and other terrorist groups.
He also expressed concern for the safety of journalists and the need to ensure their protection, according to a White House readout of the call.
Biden also spoke by phone with Palestinian President Mahmoud Abbas, their first conversation since Biden assumed the U.S. presidency in January.
He updated Abbas on U.S. diplomatic efforts to end the ongoing conflict, stressing that Hamas must stop firing rockets into Israel.
Biden also underscored his commitment to a "negotiated two-state solution as the best path to reach a just and lasting resolution of the Israeli-Palestinian conflict," according to a readout of the call from the White House.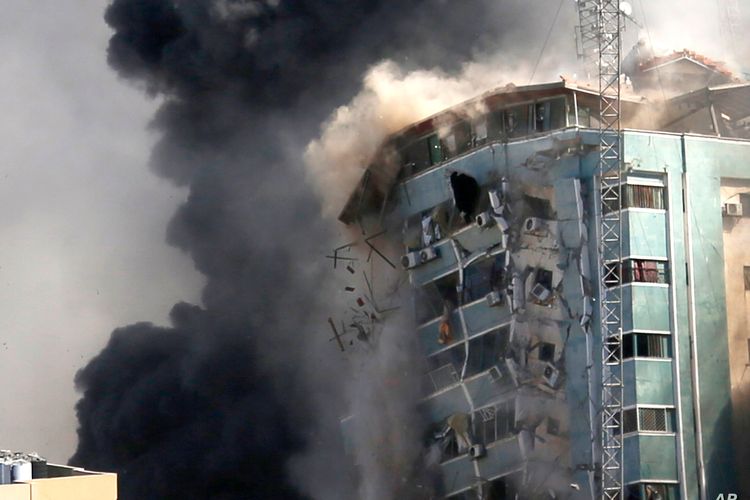 The Jala Tower building housing the offices of the Associated Press, Al-Jazeera and other media in Gaza City collapses after it was hit by an Israeli airstrike (15/5/2021). The attack came about an hour after the Israeli military warned people to evacuate the building