DENPASAR, KOMPAS.com - Indonesian immigration officials in Bali have deported two foreign tourists, over a week after one of them stirred outrage among Indonesian netizens by turning towards body painting to get around health protocols and uploading a video of their actions.
Ministry of Law and Human Rights Bali Regional Office Head, Jamaruli Manihuruk said the two, Taiwanese-American citizen Lin Chi 'Joshua' Chen and Russian national Leia Se, were deported for violating local and national laws.
"[Chen and Se] violated Bali Governor Regulation no. 10/2021 on health protocols to counter Covid-19. They are also deported for violating a 2011 immigration law which stipulates that foreigners who do not respect Indonesian laws are subject to deportation."
Also read: Foreign Tourist in Bali Paints A Fake Mask On Her Face
Joshua and Leia's arrest and deportation occurred, eight days after the two posted a video of themselves on YouTube trying to enter a supermarket in Bali. They initially tried to enter the shop without a mask, only for security to throw them out for not wearing the face covering.
Joshua, who was already masked, then painted the lower part of Se's face in the shape of a blue mask, then tried to reenter the shop. Their gimmick succeeded, and they both had a laugh at the security guard's gullibility and walked freely about the shop.
But Indonesian netizens who saw the duo's attempt to get their 15 minutes of viral fame were less than amused. Immigration officials caught up with Joshua and Se days later, and forced them to apologize for their actions on Instagram in the company of their legal representation.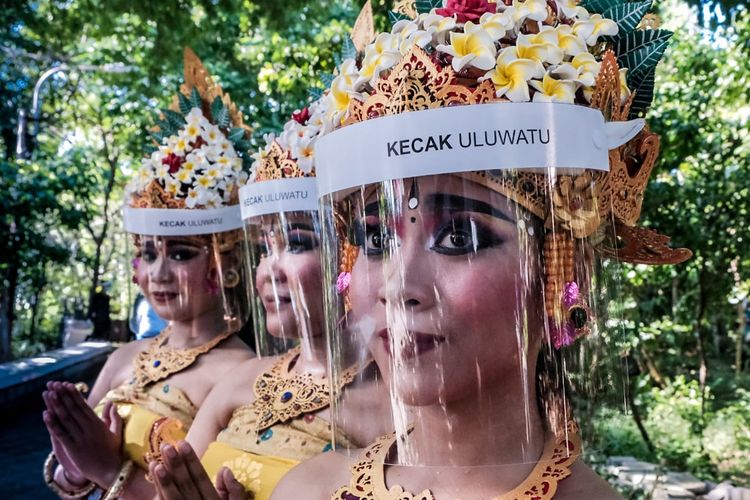 Balinese dancers practicing health protocols in the so-called Island of the Gods
As a content creator, Joshua said he made the video purely for entertainment purposes.
"We had no intention to disrespect [health protocols] or discourage the public from wearing a mask," Joshua stated in his clarification, which was posted on his Instagram account @joshpalerlin, Friday, April 23.
"I did not realize [my actions]...brought about...negative comments from netizens and raised concerns," he added.
Also read: Russian Man Allegedly Steals Five Helmets After Breakup in Bali
Indonesia has rigorously enforced health protocols like the wearing of masks in public places and maintaining social distancing, since Covid-19 was detected in the country in March 2020.
Law enforcement in Bali are authorized to fine foreign tourists committing their first health protocol offense, and to deport them for repeating the infraction.
(Writer: Bali Contributor, Imam Rosidin | Editor : Dheri Agriesta)
Sources:
https://regional.kompas.com/read/2021/04/30/124241478/2-wna-yang-lukis-masker-di-wajah-akan-dideportasi-ini-penjelasan
https://regional.kompas.com/read/2021/04/27/113821478/turis-asing-yang-lukis-masker-di-wajah-dan-kelabui-satpam-minta-maaf
https://go.kompas.com/read/2021/04/22/053357974/foreign-tourist-in-bali-paints-a-fake-mask-on-her-face
Dapatkan update berita pilihan dan breaking news setiap hari dari Kompas.com. Mari bergabung di Grup Telegram "Kompas.com News Update", caranya klik link https://t.me/kompascomupdate, kemudian join. Anda harus install aplikasi Telegram terlebih dulu di ponsel.