JAKARTA, KOMPAS.com – Indonesia is set to increase its stockpile of Covid-19 vaccines, as the country received the first doses of the Sinopharm coronavirus vaccine.
Minister of Communications and Informatics Johnny G. Plate area among the officials who received the shipment, which arrived in Soekarno-Hatta International Airport on Friday, April 30.
"The cargo included 482,400 ready-to use vaccine doses of the Sinopharm China National Pharmaceutical Corporation, and six million bulk vaccines from Sinovac," said the Nasdem Party [National Democrat] politician.
Also read: 3.8 Million AstraZeneca Vaccines to Arrive in Indonesia on April 26
"This latest consignment of vaccines has brought the number of vaccine doses in Indonesia to 65,500,000 bulk vaccines from Sinovac, as well as 8,448,000 finished product vaccines from Sinovac, Sinopharm and AstraZeneca from our cooperation with the Gavi Covax Facility."
Johnny maintained that the arrival of the vaccines reflect the government's efforts to safeguard vaccine supplies for the country. He added that the step is vital, considering how the vaccines are in demand among countries around the world.
Indonesia's Food and Drug Agency or BPOM has issued emergency use authorization [EUA] for the Covid-19 vaccine made by China's Sinopharm pharmaceutical company. BPOM's permit comes on the same day as the vaccine's arrival in Indonesia.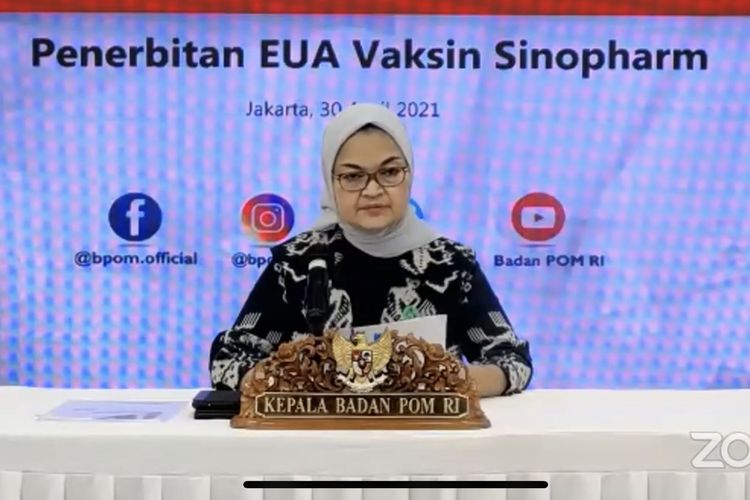 BPOM head Penny Lukito announcing the EUA for the Sinopharm vaccine at a press conference on Friday, (30/4/2021)
BPOM chief Penny Lukito said the agency's decision to issue the EUA to the Sinopharm vaccine was based on reports of its positive results in the United Arab Emirates.
"Phase 3 clinical studies carried out on 42 thousand volunteers in the United Arab Emirates has shown that the [Sinopharm] vaccine has an efficacy rate of 78 percent," she said in a virtual press conference on Friday, April 30.
"The Sinopharm vaccine is in the form of an inactivated virus."