DENPASAR, KOMPAS.com - For thousands of years, the best known mosques styles around the world are those that are influenced by the architecture and art of the Middle East and Near East, such as the pillars and domes of Arabic, Byzantine, and North African styles.
But the Al-Hikmah Mosque in the Indonesian resort island of Bali broke out of this mold and opted for the architectural road less taken.
Located in Denpasar, the province's largest city, this house of worship looked less like Jakarta's Istitqlal mosque or Banda Aceh's Baiturrahman mosque with their domes and pillars, and more like the age-old Hindu puras or temples nearby.
Like the temples, this house of worship featured a distinctively Balinese architectural style of stone carvings and statues that are chiseled from dark andesite stone and red bricks.
Also read: Bali Named Among World's 15 Best Islands for Retirement On Travel Awaits' 2021
The mosque's details include curved contours on the fence and gate that depicted statues of dragons, a bird's head, flowers, and a meditative statue of a man with his legs crossed. Other Balinese characteristics included convex and concave leaves and equally vivid fruits.
Built on an endowment
According to the mosque's manager, Hajji Muhammad Suwarno, Hajj Abdurrahman built the Al-Hikmah mosque in 1978 on 500 square meters of land he inherited from his family. Like many traditional Indonesian mosques, the Al-Hikmah was originally made of wood.
The mosque acquired its polyglot style during its first renovation In 1995, when Suwarno hired Balinese architect Wayan Kasim to incorporate Balineses styles.
"[The mosque] symbolizes unification, as it combines Balinese and Javanese bas-reliefs, Middle Eastern arches, and Chinese dragons," Suwarno said of the Al Hikmah.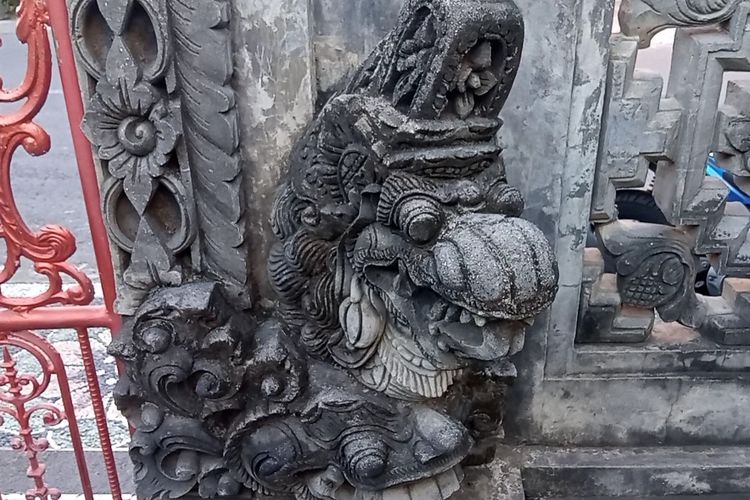 Carvings at Al Hikmah Mosque gate which is located at Jalan Soka No 18, Kertalangu, East Denpasar, Bali.
"[The Balinese facade] is a nod to Balinese Hinduism to symbolize mutual respect between Muslims and Hindus, as well as the harmonious relationship between both faiths in Bali."
Suwarno asserted that for the Al-Hikmah mosque, tolerance is not just a punchline.
"We practice tolerance on a daily basis. For example, the mosque will distribute qurban, or sacrificial meat, to local residents during Eid al-Adha or the Feast of Sacrifice, regardless of their religion."
Also read: Foreign Tourist in Bali Paints A Fake Mask On Her Face
Suwarno noted "that the locals appreciated Al Hikmah's resemblance to a Hindu temple. On the other hand, many visitors questioned the similarity to the temples," said Suwarno. "The edifice's shape does not matter, as the Al Hikmah's main purpose is to pray to God. "
The Al Hikmah Mosque can accommodate up to 1,000 people for a range of activities, ranging from communal prayers, studies of verses from al-Qur'an, and religious instruction for children.
But most of all, the Al Hikmah mosque reminds one of the universality of God and the need to look at the book beyond its cover.
(Writer: Bali Contributor, Imam Rosidin | Editor : Robertus Belarminus)
Source: https://regional.kompas.com/read/2021/04/21/102940278/masjid-al-hikmah-mengadopsi-arsitektur-khas-bali-ini-pesannya
Dapatkan update berita pilihan dan breaking news setiap hari dari Kompas.com. Mari bergabung di Grup Telegram "Kompas.com News Update", caranya klik link https://t.me/kompascomupdate, kemudian join. Anda harus install aplikasi Telegram terlebih dulu di ponsel.