BANTEN, KOMPAS.com - Home to thousands of islands, Indonesia has spectacular getaways of the powdery sands. Fresh air, deserted beaches, and cinematic aquatic beauty are a few draws of these tourist destinations.
One of these destinations is the Tanjung Lesung tourist destination in Pandeglang, Banten. Only a few hours drive from the Indonesian capital, this tourist attraction is even more crowded during the pandemic.
"It is an open space. The area is 1,500 hectares with a coastline along 14 kilometers. All facilities are all in one place," said a tour operator Anton Thedy previously.
For tourism activities, Tanjung Lesung has the Lalassa Beach Club which is the center for water sports activities for all ages. Visitors can choose several water sports activities such as wakeboarding, banana boat, slider boat, jet ski, donut boat, snorkeling, diving, ATV, cycling, and kayaking.
Also read: Indonesian Tourism Chief to Revive Country's Tourism Industry in 2021
Lalassa Beach Club also offers various sightseeing packages by speed boat to several tourist destinations around Tanjung Lesung, such as Mount Anak Krakatau, Ujung Kulon National Park, and Liwungan Island.
Besides, Tanjung Lesung also provides accommodation with a full range of hotel facilities at the Tanjung Lesung Beach Hotel and Villa.
For those who plan to stay in an exclusive residence, they can book the villas which are equipped with a private and public pool. Tanjung Lesung Beach Cottage, a two-story accommodation with wooden walls and floors, can also be an option for tourists.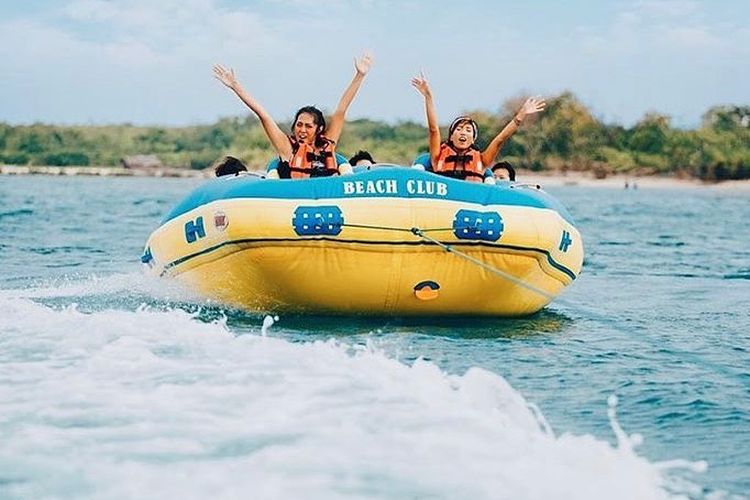 Tourists try a donut boat at Lalassa Beach Club, Tanjung Lesung, Pandeglang, Banten.
Tanjung Lesung is a Special Economic Zone (KEK) for tourism as well as one of the 10 New Bali that has been declared by the government. The development of this tourist destination is a priority and is projected to absorb a workforce of 85,000 people by 2025.
Various tourism supporting facilities and infrastructure have been and will be developed in Tanjung Lesung. This includes the Serang-Panimbang Section I toll road which will cut travel time and is expected to operate in the mid of 2021.