https://nasional.kompas.com/read/2021/04/15/04010041/penyuntikan-vaksin-nusantara-di-rspad-kepala-bpom--tak-ada-kaitan-dengan.
Indonesian Flag Carrier Garuda Indonesia Prohibits Shipment of Chinese Manufactured Smartphones
Indonesian flag carrier Garuda Indonesia has prohibited the shipping of Chinese manufactured Vivo smartphones in its cargo hold, after a consignment of the company's Y20 smartphone caught fire in Hong Kong Airport.
Garuda Indonesia President Director Irfan Setiaputra confirmed the ban. "We have suspended the shipment of [Vivo smartphones] after it caught on fire in Hong Kong," he said.
"[Garuda] has issued an internal Cargo Information Notice [CIN] warning against transporting the commodity. The step is an cautionary measure to ensure that safety are followed. Prior to our decision, a number of airliners also decided against transporting the phone,"
Vivo's offices in Indonesia acknowledged Garuda's concerns. "Vivo Indonesia is following this incident closely. We will work closely with [Hong Kong authorities] on this matter," the company said.
"We will do our utmost to ensure that [Vivo] contains nothing less than the most rigorous safety standards." Vivo and Oppo are among the leading smartphone brands Indonesia.
Source:
https://money.kompas.com/read/2021/04/14/145405526/garuda-indonesia-larang-pesawat-kargo-angkut-merek-ponsel-yang-terbakar-di?page=all#page2.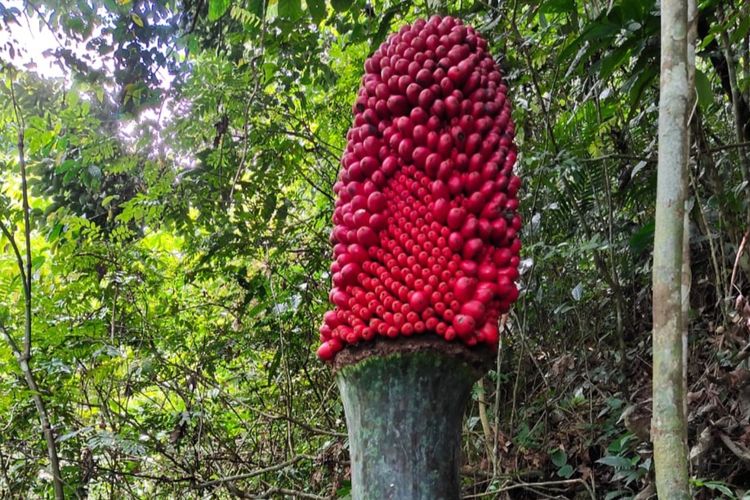 A titan arum carrion flower in Agam, West Sumatra produced fruit after it bloomed
Carrion Flower in Indonesia's West Sumatra Province Bears Fruit