JAKARTA, KOMPAS.com – The Amnesty International Indonesia NGO has suspected Indonesian security forces to be behind adozens of extrajudicial killings in the provinces of Papua and West Papua in 2020.
The cases occurred as the ongoing insurgency in the provinces gradually went from units organized by the Free Papua Organization [OPM] separatist movement, to a more sporadic form labeled as Armed Criminal Groups [KKB] by the Indonesian authorities.
"[Amnesty International Indonesia] has estimated that Indonesian military and police in Papua and West Papua are complicit in at least 19 extrajudicial killings in 2020 that killed at least 30 people," said Amnesty International Indonesia researcher Ari Pramuditya on Wednesday.
"Military personnel are responsible for 10 murders, while the police are responsible for four killings. The remaining five incidents involved military and police personnel."
Also read: Thousands of Civilians Flee Insurgency in Papua's Intan Jaya Regency
Ari noted that the authorities are half-hearted in prosecuting the cases. "Three cases that involved military personnel are still investigated by military prosecutors, while one incident [involving the police] is being investigated by prosecutors," he added.
"No one has been found guilty or sentenced [for their crimes]. This showed that there is still a culture of impunity by the military and police towards [Papuan and West Papuan] civilians where they can commit human rights violations without repercussions."
Ari deplored the government for "turning a blind eye to the violence committed by Indonesian security forces in Papua and West Papua, as it focused on developing infrastructure in both provinces without consulting or involving the Papuan people," he lamented.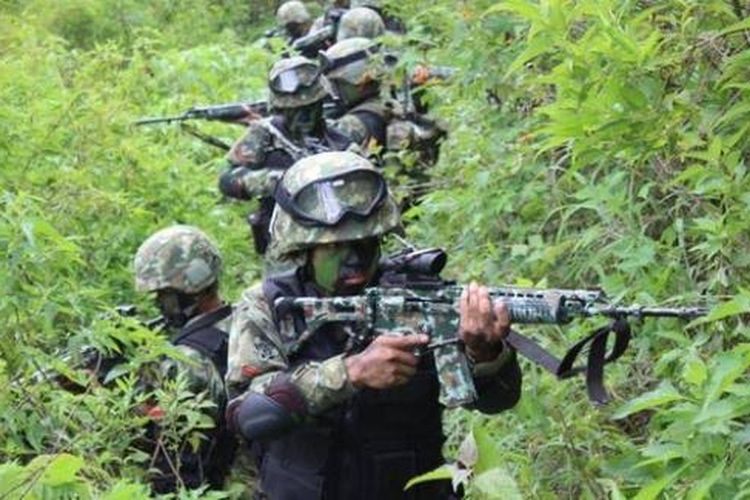 A file photo of Indonesian military (TNI) personnel during a patrol in Sugapa district in Intan Jaya regency, Papua.
Also read: Two Indonesian Soldiers Killed in Firefight Against Papuan Insurgents
Meanwhile, the Papua Regional Police announced that they cornered at least one KKB.