TAIPEI, KOMPAS.com - The Chinese foreign minister Wang Yi has wrapped up his second series of meetings so far this year with Southeast Asia leaders to discuss vaccine distribution, help with post-pandemic recovery and other offers that experts say could sway countries in the pivotal subregion toward China and away from growing U.S. influence.
Wang met last week in China with counterparts from Singapore, Malaysia, Indonesia and the Philippines, China's state-owned media, Xinhua News Agency reported.
China "stands for the interests of many developing, small and medium-sized countries," Xinhua quoted him saying. The group of countries Wang references would cover much of Southeast Asia's 655 million-population spread over 10 nations.
The foreign minister had visited Brunei, Indonesia, Myanmar and the Philippines in January just before U.S. President Joe Biden took office. China pledged then to help Southeast Asian nations with COVID-19 vaccines, infrastructure and trade.
Also read: Can the EU's climate change plan work in Southeast Asia?
China hopes to shine again, analysts say, in a part of Asia where most governments do not take sides in the superpower relationship after a spate of U.S. moves aimed at controlling China's expansion in a sea disputed by four Southeast Asian countries.
Countries along the Mekong River fret separately over China's control of water flows from its upstream dams.
"Foreign Minister Wang Yi is trying to send the strongest signals that China remains the partner within the region," said Stephen Nagy, senior associate professor of politics and international studies at International Christian University in Tokyo.
"They really would like to send the strongest of signals that Southeast Asian countries should be deferent to Beijing before they are deferent to Washington."
The heat is on, as U.S. Secretary of State Antony Blinken and Pentagon chief Lloyd Austin held talks last month with their Japanese counterparts in Tokyo to reaffirm partnerships as China grows more assertive.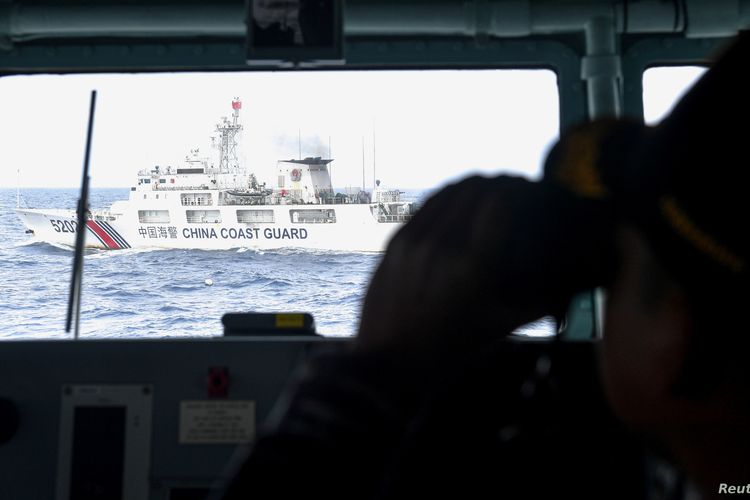 FILE - China Coast Guard ship is seen from an Indonesian Naval ship during a patrol at Indonesia's Exclusive Economic Zone (EEZ) sea in the north of Natuna Island, Indonesia, Jan. 11, 2020