KOMPAS.com- The governor of Indonesia's Papua province, Lukas Enembe continues to reap the fallout from his ill-fated jaunt across the border to Papua New Guinea last week, which culminated with his deportation to Indonesia last Friday for illegally entering the country.
Indonesian Minister of Home Affairs Tito Karnavian flew to the Papuan provincial capital Jayapura last Monday to personally deliver a stinging reprimand to Lukas over the trip.
"I have conveyed [to Lukas'] that he is at fault for entering [Papua New Guinea] without visas or other documents, whatever his reasons," said the former Indonesian National Police chief.
Also read: Governor of Indonesia's Papua Province Deported From Papua New Guinea
"[Lukas] violated procedures [for senior government officials] by going on an unauthorized trip. His mistake is even more glaring, as it is carried out during [the Covid-19] pandemic. "
Tito noted that he is aware of Lukas' health issues during his last meeting with the Papuan politician last March, as the latter has gone to hospitals in Jakarta to treat his condition.
"If Lukas has to urgently receive treatment or therapy [overseas or elsewhere] for his health, he should have notified me as his direct superior in the Ministry of Home Affairs. I would then issue the permit," Tito added. "Unfortunately, he has not done that."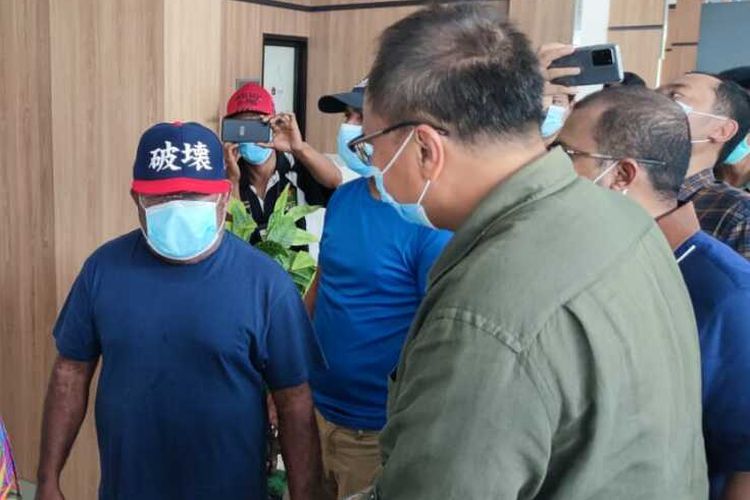 Papua province governor Lukas Enembe at the Skouw border crossing between Indonesia and Papua New Guinea following his deportation from the latter country on Friday (2/4/2021)
Lukas confirmed that he has met with Tito over the fiasco. "I have notified [Tito] that I went to Papua New Guinea to get traditional nerve treatment for my feet. I was accompanied by Indonesian consul [Allen Simarmata] when I was in Papua New Guinea."
However, Allen maintained that he only knew Lukas was in Papua New Guinea, when he accompanied the latter to the Skouw border crossing to be repatriated back to Indonesia.
Also read: Indonesia Task Force Urges Greater Covid-19 Vigilance at Border Crossing Points