JAKARTA, KOMPAS.com – Indonesia is set to use AstraZeneca's Covid-19 vaccine on Monday, days after the company was hit by allegations that it used swine trypsin and was subject to a WHO review for allegedly causing blood clots and even death.
Indonesian low-cost carriers Batik Air and Citilink were forced to divert seven flights in between them from Halim Perdanukusuma to Soekarno-Hatta International Airport, after a cargo jet slipped and blocked the runway.
And the Indonesian Embassy in Tokyo is trying to account for Indonesian nationals in Japan, after the Miyagi Prefecture in northern Japan was hit by a 7.2 Richter scale earthquake that triggered a tsunami warning. This and more on Indonesia Highlights: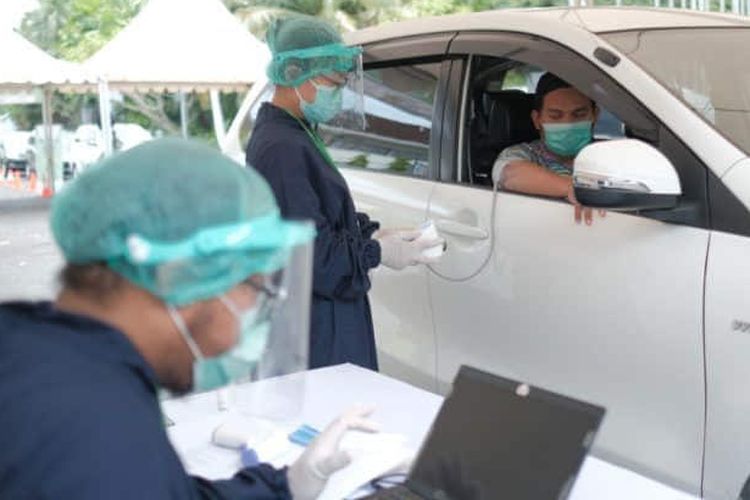 A drive-thru Covid-19 vaccine
AstraZeneca Denies Using Swine Trypsin in Its Covid-19 Vaccine
British pharmaceutical company AstraZeneca has refuted reports that its Covid-19 vaccine contains trypsin from swine, after Indonesia authorized the use of its Covid-19 vaccine for mass vaccinations next week.
AstraZeneca made the assertion, after the Indonesian Ulama Council or MUI issued a fatwa authorizing use of the vaccine despite its alleged use of swine trypsin, due to the emergency situation brought about by the coronavirus pandemic.
"We would like to clarify that AstraZeneca's Covid-19 vaccine is a virus vector that contains no animal products," AstraZeneca said in its press release on Saturday.
"The British MHRA [Medicines and Healthcare products Regulatory Agency] has confirmed this. We have not used animal products at all levels of the vaccine's development."
The allegations that the vaccine contained swine products occurred nearly two weeks after Indonesia received its first batch of 1.1 million vaccines from AstraZeneca on March 8.
Indonesia followed suit with 17 countries, including the Netherlands and Thailand, in suspending use of the AstraZeneca vaccine pending a World Health Organization [WHO] review.
This development came following reports that the vaccine induced potentially lethal blood clots among its recipients. The Indonesian Food and Drug Agency or BPOM vouched for the vaccine.
"BPOM found that the AstraZeneca vaccine's benefits still outweigh its risks. The European Medicine Agency [EMA] has found that the vaccine has nothing to do with the risks of blood clotting," said BPOM's spokesperson for the Covid-19 vaccine Lucia Rizka Andalusia.
Lucia's Ministry of Health counterpart Siti Nadia Tarmizi also hailed BPOM and MUI's decision to endorse the AstraZeneca vaccine. The AstraZeneca vaccine is authorized for use in Indonesia next Monday, March 22.
Source:
https://go.kompas.com/read/2021/03/21/072216174/astrazeneca-denies-using-swine-trypsin-in-its-covid-19-vaccine?page=all#page2.
A twin engined jet plane similar to a Boeing 737-500
Mishap at Jakarta's Halim Airport Causes Diversion of Flights to Soekarno-Hatta Airport
Authorities at Jakarta's Halim Perdanakusuma Airport has diverted a number of commercial flights to Soekarno-Hatta International Airport, after a Trigana Air Boeing 737-500 cargo jet blocked parts of the runway after it slid on the tarmac on Saturday. No casualties were reported in the incident.
"[The Angkasa Pura II air transportation company] has diverted seven low-cost carrier flights to Soekarno-Hatta Airport," said Angkasa Pura II Vice President of Corporate Communications Yado Yarismano in a written statement.
"Five of them are from Batik Air, while the other two are Citilink flights."The public relations manager for the AirNav [Air Navigation] Indonesia, Yohannes Harry Douglas Sirait, reiterated Yado.
"The incident with the Trigana Air Boeing 737-500 jet with the registration number PK-YSF occurred, as it took off from Halim Perdanakusuma Airport to head to Sultan Hasanuddin Airport in Makassar, South Sulawesi."
Sirait added that the fligh had to turn back to Halim Perdanakusuma because of technical problems.
"The [Trigana Air] flight slid towards the right of the runway and blocked it after returning to base. The accident rendered the facility unusable."
The Trigana Air near disaster is the second aerial mishap involving the Boeing 737-500 jet in the first quarter of 2021, after Sriwijaya Air Flight SJ182 crashed minutes after takeoff at Soekarno Hatta Airport on January 9. 62 passengers and crew died in the disaster.
Source:
https://go.kompas.com/read/2021/03/21/061313774/mishap-at-jakartas-halim-airport-causes-diversion-of-flights-to-soekarno-hatta?page=all#page2.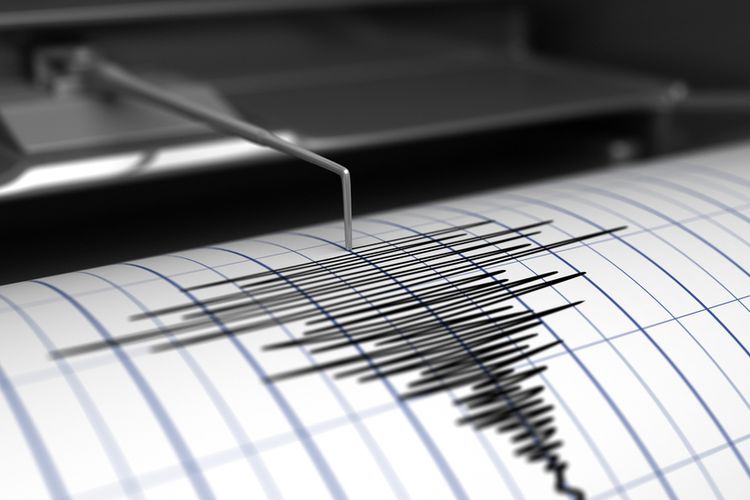 An illustration of an earthquake chart
Indonesian Embassy in Japan to Account For Indonesian Nationals After Earthquake
The Indonesian Embassy in Japan is continuing its efforts to account for Indonesian nationals in the country, after a 7.2 Richter scale earthquake struck the Japanese Prefecture of Miyagi, triggering a one-meter tsunami warning.
No casualties or damages were reported in the disaster, which occurred at a depth of 60 kilometers off Miyagi on Saturday, March 20.
"The Indonesian Embassy in Japan has contacted organizations for Indonesian nationals [in Miyagi prefecture] to see how they are doing," said Indonesian Ambassador to Japan Heri Akhmadi in a press release.
He added that he has yet to receive any reports of Indonesian casualties or material damages incurred during the earthquake.
Heri "urged Indonesian citizens affected by the disaster to call the hotline provided by the Indonesian Embassy in Tokyo. We also call on them to remain calm and comply with the local authorities."
984 Indonesian are known to live in the Miyagi Prefecture in northern Japan. The Japan Meteorology Agency issued the tsunami warning after the tremors shook Miyagi, but withdrew the warning afterwards.
The disaster occurred 10 years after a 9 Richter scale earthquake struck Japan on March 11 2011, triggering a tsunami that killed more than 18 thousand people and causing a meltdown at the Fukushima Daiichi nuclear power plant as other damage.
Source:
https://go.kompas.com/read/2021/03/21/044810374/indonesian-embassy-in-japan-to-account-for-indonesian-nationals-after-earthquake?page=all#page2
Dapatkan update berita pilihan dan breaking news setiap hari dari Kompas.com. Mari bergabung di Grup Telegram "Kompas.com News Update", caranya klik link https://t.me/kompascomupdate, kemudian join. Anda harus install aplikasi Telegram terlebih dulu di ponsel.