JAKARTA, KOMPAS.com – Indonesia is set to use AstraZeneca's Covid-19 vaccine on Monday, days after the company was hit by allegations that it used swine trypsin and was subject to a WHO review for allegedly causing blood clots and even death.
Indonesian low-cost carriers Batik Air and Citilink were forced to divert seven flights in between them from Halim Perdanukusuma to Soekarno-Hatta International Airport, after a cargo jet slipped and blocked the runway.
And the Indonesian Embassy in Tokyo is trying to account for Indonesian nationals in Japan, after the Miyagi Prefecture in northern Japan was hit by a 7.2 Richter scale earthquake that triggered a tsunami warning. This and more on Indonesia Highlights: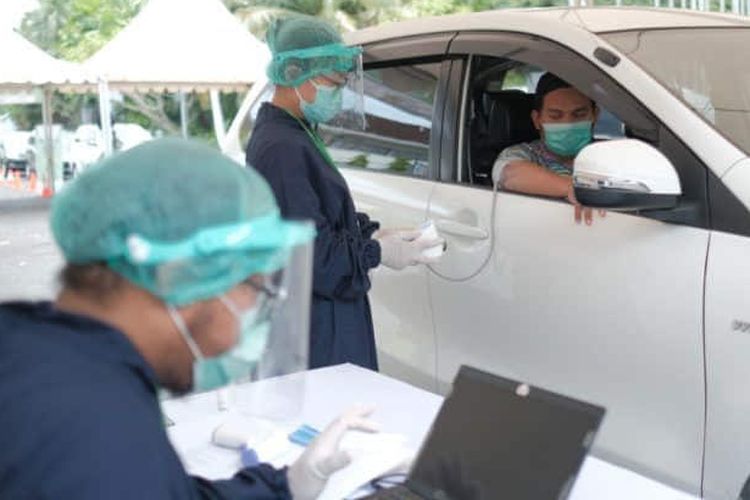 A drive-thru Covid-19 vaccine
AstraZeneca Denies Using Swine Trypsin in Its Covid-19 Vaccine
British pharmaceutical company AstraZeneca has refuted reports that its Covid-19 vaccine contains trypsin from swine, after Indonesia authorized the use of its Covid-19 vaccine for mass vaccinations next week.
AstraZeneca made the assertion, after the Indonesian Ulama Council or MUI issued a fatwa authorizing use of the vaccine despite its alleged use of swine trypsin, due to the emergency situation brought about by the coronavirus pandemic.
"We would like to clarify that AstraZeneca's Covid-19 vaccine is a virus vector that contains no animal products," AstraZeneca said in its press release on Saturday.
"The British MHRA [Medicines and Healthcare products Regulatory Agency] has confirmed this. We have not used animal products at all levels of the vaccine's development."
The allegations that the vaccine contained swine products occurred nearly two weeks after Indonesia received its first batch of 1.1 million vaccines from AstraZeneca on March 8.
Indonesia followed suit with 17 countries, including the Netherlands and Thailand, in suspending use of the AstraZeneca vaccine pending a World Health Organization [WHO] review.