JAKARTA, KOMPAS.com – Indonesia has set aside more than seven million vaccines to vaccinate over 21 million elderly persons nationwide, though the majority are in Java and Bali.
Jakarta is swamped by floodwaters that swept through the municipalities of East Jakarta and West Jakarta. The floods also displaced at least 694 people from 182 families. The floodwaters were also marked by the discovery of a white, milky floods of unknown origin in North Jakarta.
And in East Java, a pod of 52 pilot whales baffled environmental experts, after they mysteriously washed ashore in Madura Island's Bangkalan district. Read on to get the scoop of these pieces in today's Indonesia Highlights: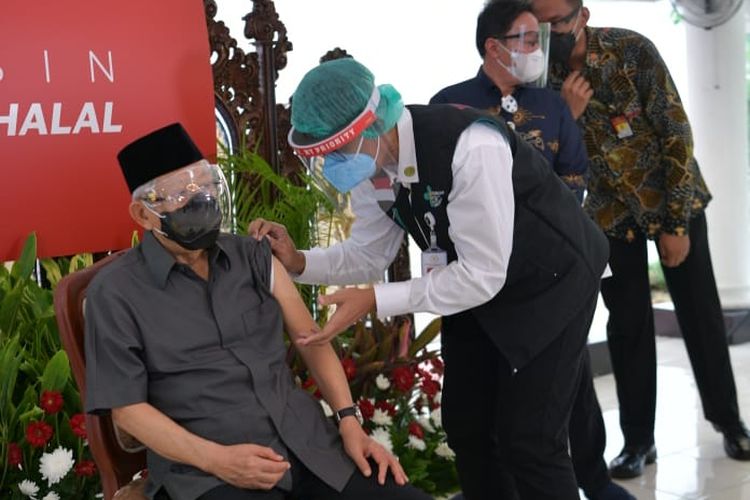 Indonesia's Vice President Ma'ruf Amin gets his first Covid-19 vaccine dose at his official residence in Menteng, Central Jakarta on Wednesday, February 17, 2021.
Indonesia to Begin Covid-19 Vaccinations for the Elderly Next Week
The Indonesian Ministry of Health has called on provincial administrations across Indonesia's 34 provinces to start registering elderly people aged 60 and up, as the government plans to vaccinate them against Covid-19 next week.
"If [the provincial administrations] start to register the [elderly], we hope that the data they shared with us can be used to set the schedule their Covid-19 vaccination nationwide," said Ministry of Health spokesperson Siti Nadia Tarmizi on Friday, February 19.
"The vaccinations for the elderly will be carried out in stages, as the vaccines for this age group is still limited. We currently have seven million doses to vaccinate 21.5 million elderly people, so this will be done nationwide with a prioritized scale system," she noted.
"70 percent of the vaccines will be distributed in Java and Bali, while the rest will go to the other islands. As the most populous parts of Indonesia, both islands have the country's largest elderly populations," she noted.
Indonesia authorized the vaccination of the elderly, after tests of Sinovac's Coronavac vaccine in Brazil proved safe for senior citizens. Coronavac made up the majority of Indonesia's Covid-19 vaccine.
A Ministry of Health report on February 8 noted that the elderly make up 47 percent of Covid-19 fatalities, though they only make up about 10 percent of coronavirus cases. The number of Covid-19 cases currently stand at 1,263,299 people with 34,152 deaths.