JAKARTA, KOMPAS.com – The Indonesian Ministry of Health has called on provincial administrations across Indonesia's 34 provinces to start registering elderly people aged 60 and up, as the government plans to vaccinate them against Covid-19 next week.
"If [the provincial administrations] start to register the [elderly], we hope that the data they shared with us can be used to set the schedule their Covid-19 vaccination nationwide," said Ministry of Health spokesperson Siti Nadia Tarmizi on Friday, February 19.
"Obviously we cannot start the vaccinations next Monday, so we hope to start the vaccinations next Wednesday or Thursday." But Nadia admitted that the policy cannot be carried out in a sweeping manner.
"The vaccinations for the elderly will be carried out in stages, as the vaccines for this age group is still limited. We currently have seven million doses to vaccinate 21.5 million elderly people, so this will be done nationwide with a prioritized scale system," she noted.
Also read: Indonesia's VP Urges Seniors to Take Covid-19 Vaccine
Nadia also asserted that "70 percent of the vaccines will be distributed in Java and Bali, while the rest will go to the other islands. As the most populous parts of Indonesia, both islands have the country's largest elderly populations," she noted.
"Both islands also bear the brunt of Indonesian Covid-19 cases." Nadia added that the vaccinations will be carried out in provincial capitals or population centers.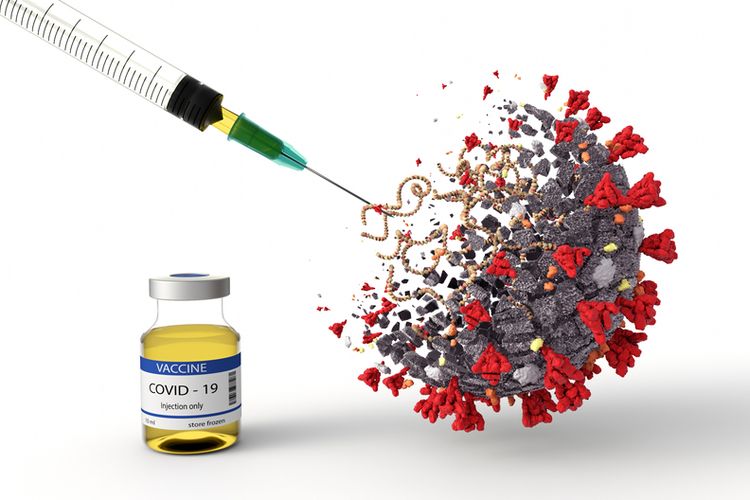 An illustration of Covid-19 vaccine.
"The vaccinations for the elderly will be held in all five of Jakarta's municipalities, the city of Denpasar in Bali as the island's leading population center, Bandung, West Java, Medan in North Sumatra, and Makassar, South Sulawesi, and so forth."
She added the elderly can get vaccinated in hospitals or public health facilities [puskesmas], or a public installation that collaborates with the ministry to hold the vaccinations.
Also read: Indonesia Starts to Vaccinate the Elderly Against Covid-19
"The recipients for the former can register through a link with the Ministry of Health at www.kemkes.go.id , while those who opted for the latter can go to the Covid-19 Mitigation and National Economic Recovery Committee [KPC-PEN] at www.covid19.go.id ," Nadia pointed out.
Indonesia authorized the vaccination of the elderly, after tests of Sinovac's Coronavac vaccine in Brazil proved safe for senior citizens. Coronavac made up the majority of Indonesia's Covid-19 vaccine.
A Ministry of Health report on February 8 noted that the elderly make up 47 percent of Covid-19 fatalities, though they only make up about 10 percent of coronavirus cases. The number of Covid-19 cases currently stand at 1,263,299 people with 34,152 deaths.
(Writers: Dian Erika Nugraheny, Sania Mashabi | Editor : Dani Prabowo, Rakhmat Nur Hakim, Bayu Galih)
Sources:
https://nasional.kompas.com/read/2021/02/19/22580081/kemenkes--vaksinasi-covid-19-lansia-diharapkan-bisa-dimulai-pekan-depan?page=all#page2.
https://nasional.kompas.com/read/2021/02/19/23023951/pemerintah-distribusikan-7-juta-dosis-vaksin-covid-19-untuk-vaksinasi-lansia?page=all#page2.
https://nasional.kompas.com/read/2021/02/19/16271851/update-19-februari-ada-160142-kasus-aktif-covid-19-di-indonesia.
Dapatkan update berita pilihan dan breaking news setiap hari dari Kompas.com. Mari bergabung di Grup Telegram "Kompas.com News Update", caranya klik link https://t.me/kompascomupdate, kemudian join. Anda harus install aplikasi Telegram terlebih dulu di ponsel.