JAKARTA, KOMPAS.com – Indonesia's plan to vaccinate the elderly against Covid-19 has gotten off to a promising start, as the Ministry of Health vaccinated the first of more than 11,600 health workers over the age of 60 on Monday, February 8.
Among the first recipients are 15 out of 90 doctors over the age of 60 at Jakarta's Cipto Mangunkusumo Hospital [RSCM], one of Indonesia's premiere medical establishments. The doctors will be vaccinated in two stages.
"The authorization to use [Sinovac's Coronavac] vaccine could not come at a better time, as we are in need of their services and expertise," said Cipto Mangunkusumo Hospital President Director Doctor Lies Dina Liastuti.
The doctors claimed that the vaccines left no meaningful side effects. "I did not feel any adverse side effects after the vaccination, which went without a hitch," said 69-year old Professor Dr. Ali Baziad in the Ministry of Health's official website.
Also read: Indonesia Will Begin Two-week Micro-Scale Covid-19 Restrictions Tomorrow
Baziad's fellow academic, 66-year old Professor Dr. Hindra Irawan Satari, agreed. "I am glad to note that I felt no side effects [from the vaccine]."
The government's decision to authorize Covid-19 vaccines for the elderly came after the Food and Drug Agency or BPOM issued the Emergency Use Authorization [EUA] to use Sinovac's Coronavac vaccine for people above the age of 60, after tests in China and Brazil showed promising results.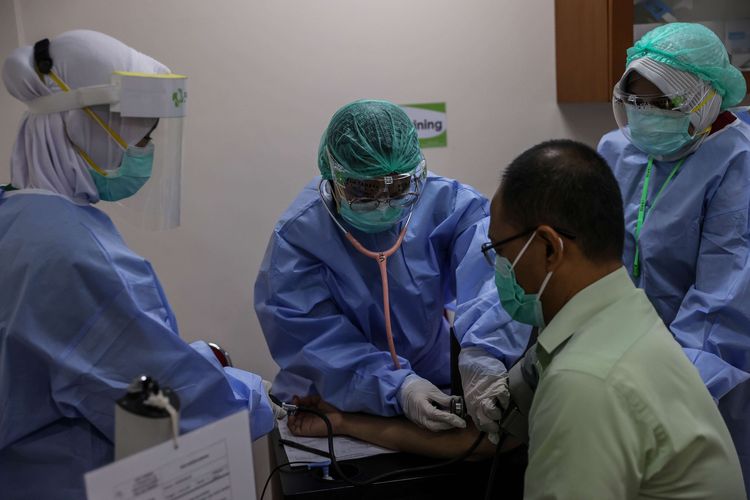 A file photo of a health care worker receives the China's Sinovac vaccine during the Covid-19 jab drive in RSIA Tambak in Central Jakarta on January 15.
"Second stage medical testing of the Coronavac vaccine in China on 400 elderly people, as well as third stage medical testing on 600 volunteers in Brazil, yielded promising results," said BPOM chief Penny Lukito.
Also read: Indonesia Highlights: Covid-19: High Rate of Death in Elderly | Vaccinate All Health Care Workers by End of February, Says Indonesian Minister | Indonesia Issues Instruction on Small-Scale Community Activity Restrictions in Villages, Sub-Districts
Ministry of Health Budi Gunadi Sadikin agreed. "There are currently more than 11,600 medical workers over the age of 60 in Indonesia, and they will be prioritized for the vaccine, followed by health workers under the age of 60" he said.
"While the latter are prioritized because of their exposure to Covid-19, we will vaccinate the elderly simultaneously as they are equally vulnerable to the pandemic."
The Ministry of Health noted that while 10 percent of Indonesia's 1.166.079 Covid-19 cases consisted of the elderly, they made up 47.3 percent of Indonesia's 31,763 deaths from the pandemic.
(Writers: Ihsanuddin, Irfan Kamil, Haryanti Puspa Sari | Editors: Nursita Sari, Egidius Patnistik, Diamanty Meiliana, Bayu Galih)
Sources:
https://megapolitan.kompas.com/read/2021/02/08/13394691/dokter-lansia-di-rscm-tak-rasakan-efek-samping-setelah-vaksinasi-covid-19?page=all#page2.
https://megapolitan.kompas.com/read/2021/02/08/13182751/rscm-lakukan-vaksinasi-covid-19-kepada-15-dokter-berusia-di-atas-60-tahun.
https://nasional.kompas.com/read/2021/02/08/05502811/kabar-baik-warga-lansia-divaksin-covid-19-mulai-hari-ini?page=all#page2.
https://nasional.kompas.com/read/2021/02/08/16064271/update-bertambah-8242-kasus-covid-19-indonesia-capai-1166079.
Dapatkan update berita pilihan dan breaking news setiap hari dari Kompas.com. Mari bergabung di Grup Telegram "Kompas.com News Update", caranya klik link https://t.me/kompascomupdate, kemudian join. Anda harus install aplikasi Telegram terlebih dulu di ponsel.