YOGYAKARTA, KOMPAS.com – Mount Merapi continues to validate its reputation as Indonesia's most active volcano, after the mountain spewed hot smoke and ash to a 3000 meter or three-kilometer radius on Wednesday. January 27.
"[Mount Merapi] emitted hot smoke and ash for 317 seconds, or more than five minutes," said Geological Disaster Technology and Research Development Center [BPPTKG] Yogyakarta head Hanik Humaida in a press release to Kompas.com.
"The hot smoke and ash was also heading southwest towards the Krasak and Boyong Rivers, as Mount Merapi spewed them for up to 36 hours between midnight to 2 pm. The smoke and ash can be seen for distances of between 500 to 3000 meters from Mount Merapi's summit."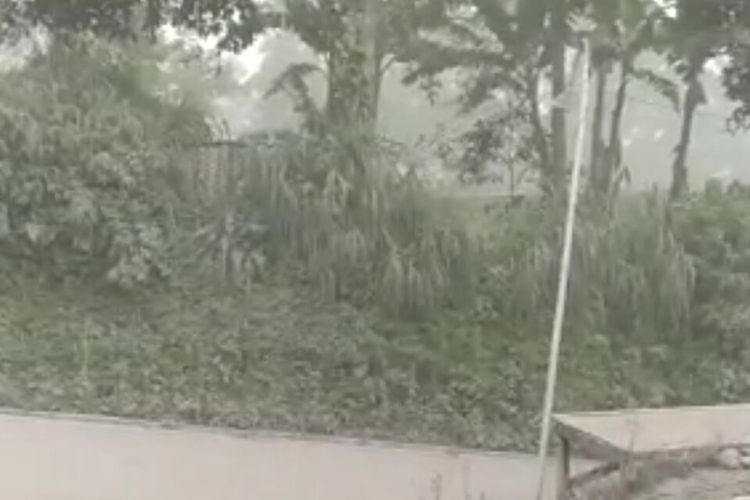 Volcanic ash from Mount Merapi falls on villages in the Central Javas Boyolali Regency, Wednesday (27/1/2021)
Also read: Number of Refugees Fleeing Mount Merapi's Slopes Surges
Hanik added that the ash covered a number of villages in the Tamansari, Boyolali and Boyolali Kota area of the neighboring province of Central Java, prompting the BPPTKG to issue a warning to the public.
"We urge the public to wear masks and goggles to protect themselves from the hot ash. We also call on them to beware of the hot lava oozing down [Mount Merapi's] slopes."
The volcanic activity alarmed observers in Sleman regency's Ngrangkah, Umbulharjo and Cangkringan districts. "We sounded the Early Warning System siren when we assumed that hot ash and lava were within 2 thousand meters of the the Krasak and Boyong Rivers.
Also read: Rumbles on Mount Merapi, Indonesia's Most Active Volcano, Causes Mass Evacuation
They also noted that the top of the mountain was covered in fog. Sleman district Regional Board for Disaster Management [BPBD] Joko Supriyanto asserted that observers sounded the alarm due to the worsening situation.
He noted that the local people were all too aware of the situation. "150 people out of the 500 Turgo hamlets fled to the Purwobinangun Displaced Barracks due to the worsening situation from the ash and hot lava," he noted.