BOYOLALI, KOMPAS.com – Authorities in Central Java province's Boyolali district have started the evacuation of hundreds of people on 12 November, as the area and the neighboring province of Yogyakarta continued to prepare for Mount Merapi's impending eruption.
The evacuees included residents of Klakah village on the foothills of Mount Merapi. Located 3 or 4 kilometers from the mountain, the authorities designated it as a disaster prone area.
"We heard the rumblings [from Mount Merapi] following a briefing to prepare for its eruption. We also noted that the temperatures are hotter than usual," Klakah village headman Marwoto said to Kompas.com.
Also read: Starlings Play Key Role in Volcano Warning System for Residents Near Indonesia's Mt. Merapi
"The villagers were then evacuated to 37 temporary shelters that can each accommodate four people in the village square. However, the villagers have been demanding to be evacuated since the alert level for the eruption was raised from 'caution' in Level II to 'beware' on Level III late last week."
Marwoto added that the villagers joined 84 elderly people and toddlers who were already in the camps. "The evacuees would only sleep in the temporary accommodations, but go about their business in the daytime. These include tending to their homes, crops and livestock," he noted.
"We also called on them to keep an eye on their valuables, especially those they can take on their person, as [Mount Merapi] can erupt any time."
Meanwhile, the Borobudur Conservation Agency [BKB] has moved to safeguard the temple, which is the biggest of its kind in the world, before Mount Merapi's eruption.
"We have covered Borobudur's stupas and corridors with tarpaulin and a high density plastic that can keep out volcanic ash," said BKB head Wiwit Kasiyati on 11 November.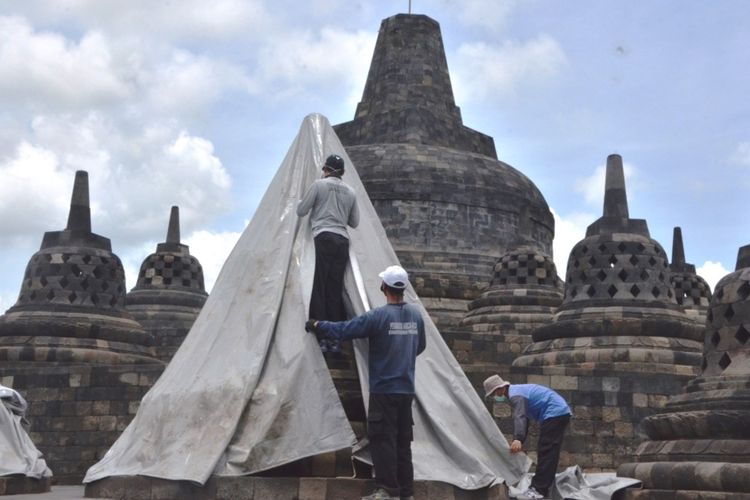 Workers with the Borobudur Conservation Agency or BKB cover Borobudur with plastic tarpaulins to protect the temple from volcanic ash on 11/11/2020
Also read: Indonesia's Most Active Volcano Erupts, Activity Caught on Camera
"The coverings are designed to protect Borobudur temple from volcanic ash once Mount Merapi erupts, which is likely due to increasing volcanic activity,"
Wiwit added that the work has yet to cover the whole edifice. "The tarpaulin and plastic have covered 32 slit stupas on Borobudur's 8th level, out of 1 main stupa, 72 slit stupas and 1,472 small stupas," she noted.
"The tarpaulins, which can be rolled out when needed, are proven safe for Borobudur' andesite stone. We have used them before on Mount Merapi's previous eruption in 2010, as well as another eruption on Mount Kelud's in 2014.
BKB official Bramantara agreed. "The tarpaulins cannot merely cover Borobudur, as we have to position the tarpaulins correctly before installing them," he said.
"Volcanic ash is fine and sharp. They can flake [Borobudur's surface], and if mixed with rainwater can erode the temple."
UNESCO designated Borobudur as a World Heritage site in 1991.
(Writers : Labib Zamani, Solo Contributor, Ika Fitriana, Magelang Contributor | Editor : Teuku Muhammad Valdy Arief, Khairina)
Sources:
https://regional.kompas.com/read/2020/11/12/12333831/terdengar-suara-gemuruh-warga-lereng-gunung-merapi-di-boyolali-minta?page=all#page2.
https://regional.kompas.com/read/2020/11/11/16294721/antisipasi-hujan-abu-merapi-stupa-candi-borobudur-ditutup-terpaulin?page=all.
Dapatkan update berita pilihan dan breaking news setiap hari dari Kompas.com. Mari bergabung di Grup Telegram "Kompas.com News Update", caranya klik link https://t.me/kompascomupdate, kemudian join. Anda harus install aplikasi Telegram terlebih dulu di ponsel.