JAKARTA, KOMPAS.com – Tensions are quickly boiling in Papua, as insurgents officially known as 'Armed Criminal Groups' or KKB killed two Indonesian soldiers in a firefight.
The clash brought the number of dead Indonesian soldiers in the province to three in as many weeks at the start of 2021.
New Indonesian Ministery of Health Budi Gunadi Sadikin criticized his ministry's testing, tracing and treatment or 3T method as well as mapping system.
And the government cannot keep the number of Covid-19 from surging towards the one million mark. Read on to get more details on these stories, as curated by our editors: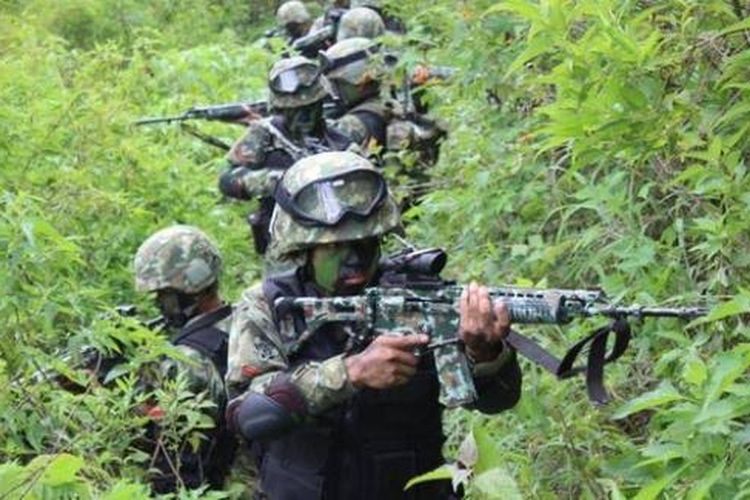 A file photo of Indonesian military (TNI) personnel during a patrol in Sugapa district in Intan Jaya regency, Papua.
Two Indonesian Soldiers Killed in Firefight Against Papuan Insurgents
Insurgents or Armed Restive Groups [KKB] in Papua have killed two Indonesian soldiers during firefights on Friday, January 22. The fatalities brought the number of soldiers killed to three in the first three weeks of 2021.
The clash occurred at the Intan Jaya regency, the site of firefights against the insurgents over the past year.
"The insurgents who were commanded by wanted Papuan militant Sabinus Waker, attacked the Army post at Titigi in the Sugapa district at 7 am," Benny told Kompas.com.
"[The soldiers on Titigi] repulsed two attacks in the morning and afternoon. The insurgents killed Private First Class Roy Vebrianto in the first assault, after they mortally hit on his right chest."
Indonesian Army spokesman Colonel IGN Suriastawa added that the military suffered its second fatality hours later.