JAKARTA, KOMPAS.com – Outlawed Indonesian hard-line organization the Islamic Defenders Front [FPI] reversal of fortune continues, following its ban by the government and the arrest of controversial chief Rizieq Shihab in December 2020.
The Indonesian government's leading financial watchdog, the Indonesian Financial Transaction Reports and Analysis Centre [PPATK] has applied a temporary freeze on the bank accounts of the FPI and its affiliates.
"The PPATK froze [the FPI's accounts] to 'analyze or investigate financial transactions, as we have cause to suspect they are related to money laundering or other crimes," said PPATK spokesman Natsir Kongah on Wednesday, January 6 2021.
"The freeze is also applied to prevent the transfer or use of funds from accounts that are known or suspected of draw funds from illegal activity."
Also read: Indonesia Officially Disbands the FPI
Natsir added that the banks complied with the PPATK's investigations. "We have received 59 reports from banks and other financial institutions confirming they stopped financial transactions from the FPI's accounts or their affiliates," he asserted.
The PPATK freezing of the FPI accounts confirmed FPI legal counsel Aziz Yanuar's suspicions after the government disbanded the group on Wednesday, December 30, 2020.
"[The FPI] have at least one account that we cannot access [since FPI's disbandment]," Aziz said to Kompas.com.
"The account is [worth the equivalent of thousands of dollars], and we have reason to believe that it was stolen by the government."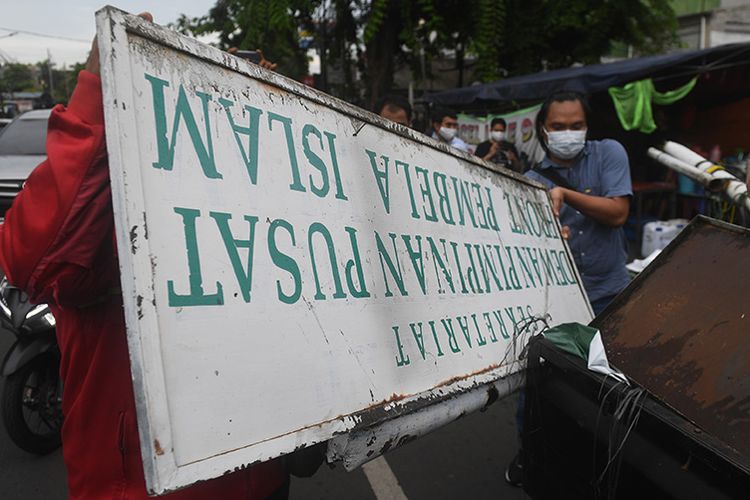 FPI signposts taken down at the groups offices in Petamburan, Central Jakarta, Wednesday (30/12/2020)
Also read: Jakarta Metropolitan Police Arrest FPI Chief Rizieq Shihab