YOGYAKARTA, KOMPAS.com – The Mount Merapi volcano is anything but predictable despite its standing as Indonesia's most active volcano, as volcanic activity on the mountain intensified in the beginning of 2021.
Among those who are confounded by the volcano are the Geological Disaster Technology Research and Development Center [BPPTKG] responsible for monitoring Mount Merapi.
"Satellite images [over Mount Merapi] have shown a mound of new magma topped by magma from a previous eruption," said BPPTKG head Hanik Kumaida to reporters on Tuesday, January 5 2021.
Also read: Rumbles on Mount Merapi, Indonesia's Most Active Volcano, Causes Mass Evacuation
"The substance was found at the edge of a crater formed after the mountain's 1997 eruption. Though the BPPTKG cannot determine just yet if the mound indicates an emergence of a lava dome in the beginning of 2021, we did notice that it dissolved the material before it."
Hanik added that the new material is not the only thing coming out of Mount Merapi. "Mount Merapi continued to spill red hot lava in the evening for over 30 seconds," he said.
"The lava continued to spill at an average of 3 millimeters and flowed near the Boyong, Bebeng, Krasak and Lamat rivers. "
The intensifying volcanic activity prompted hundreds of people living on the mountain's slopes to flee. They included those heading to the Glagaharjo area in Yogyakarta.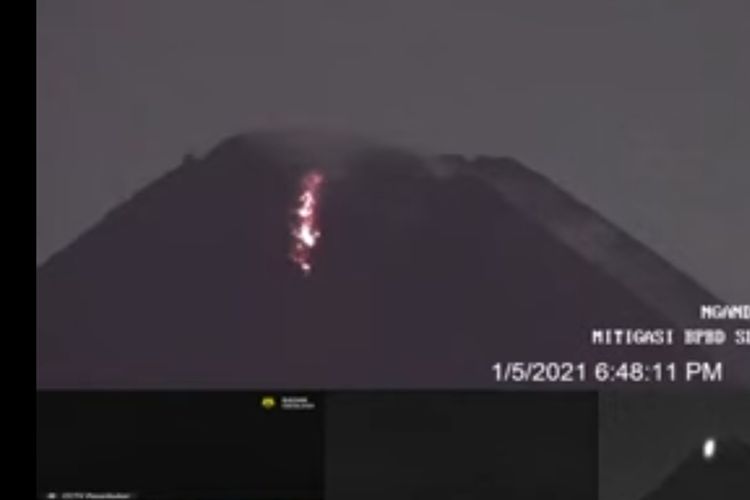 Red hot lava flowing down the slopes of Mount Merapi, as recorded on CCTV Tuesday, January 5 2021
Also read: Starlings Play Key Role in Volcano Warning System for Residents Near Indonesia's Mt. Merapi
"The number of people fleeing to the barracks have increased to 234 of this evening, up from 220 people the day before," noted Glagaharjo district chief Suroto. "Many of them are among many vulnerable people who fled the Kalitengah Lor area, which is known to be near Mount Merapi."