BOGOR, KOMPAS.com – A hospital in the city of Bogor, West Java province has found itselfin the spotlight, after a family of a patient who died of Covid-19 filed a complaint against the institution for switching her remains with another deceased patient who was not their relative.
The complainant, who was identified as DF, said the incident occurred at the Bogor Regional General Hospital [RSUD Bogor] on Wednesday, December 30 2020.
"My family and I wanted to see the remains of our mother [who was identified as WT] before it was buried according to [Covid-19 health protocols]. Initially, the hospital has forbidden us to see her body, due to various reasons, for ten hours" DF recalled.
"We insisted on checking her coffin to ensure her body was there, before it got loaded to the ambulance. The hospital eventually complied." Instead of providing closure for DF and her family, they were in for a shock, as they found that the remains were not their mother's.
Also read: Two Yemeni Nationals Test Positive for Covid-19 in Indonesia's West Java Tourist Area
"When we opened the coffin, we saw that it was a ma unrelated to us. I asked the attendant 'Can't you see that it is a man? Don't you even see he has a mustache??'" DF recalled to Kompas.com on Monday, January 4 2020.
The hospital realized its mistake and eventually found WT's remains, causing further delays.
DF highlighted two reasons for her disappointment and anger with RSUD Bogor. "The hospital took more than ten hours to prepare my mother's remains, twice as long as the four hours needed to prepare Covid-19 cases for burial," she sighed.
"The hospital did not even show us the right body. "
"Second, RSUD Bogor's switching of the remains does not show its standing as a designated hospital for Covid-19 cases. If we did not insist on seeing her remains, it will not be my mother we are burying."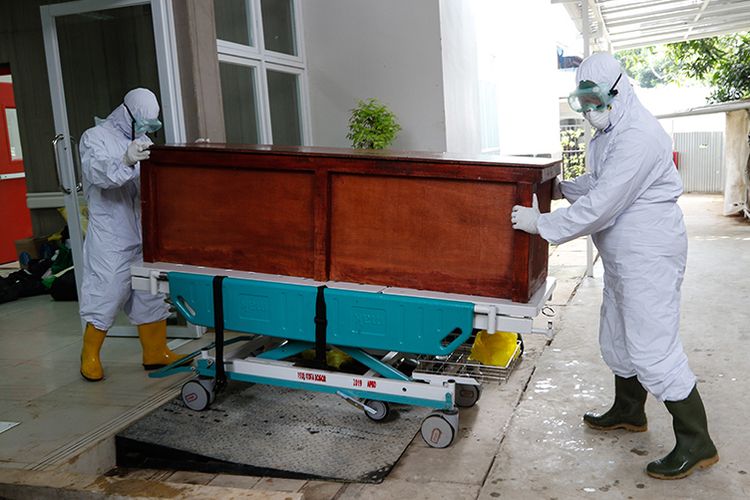 Medical personnel from Bogor Regional Public Hospital (RSUD Bogor) wheel out the remains of a Covid-19 fatality on Monday, (11/5020)