JAKARTA, KOMPAS.com – This year's holiday season is the bleakest for Indonesia in recent years as the government has banned New Year's Day celebrations in public places.
"The policy will go into effect between December 18, 2020 and January 8, 2021," said Coordinating Minister for Maritime Affairs and Investment Luhut Binsar Pandjaitan in a press release dated Tuesday, December 15.
"We decided to carry out the ban after consulting with a number of provinces, including Jakarta, West Java, Central Java, and East Java as well as Bali."
Also read: Pandemic Pushed Indonesia's Tourism Industry Backwards by 20 Years
Acting in his capacity as the deputy chairman of the Covid-19 Handling and National Economic Recovery Committee, the four-star general pointed out that the ban is "designed to anticipate a surge in Covid-19 cases during the Christmas and New Year's holidays".
"We have seen a surge of Covid-19 cases during the long holidays and joint leave last October, after they were on a downward trend," Luhut noted. "The aforementioned provinces experienced this spike, as did the provinces of South Sulawesi, North Sulawesi and South Kalimantan."
Luhut added that private gatherings can still be held, but in a more limited capacity. "The number of people invited to private get-togethers or religious gatherings should be limited, or they should be carried out online."
"Military and police personnel should hold daily roll calls before President Joko Widodo to show their commitment [to enforce health protocols]."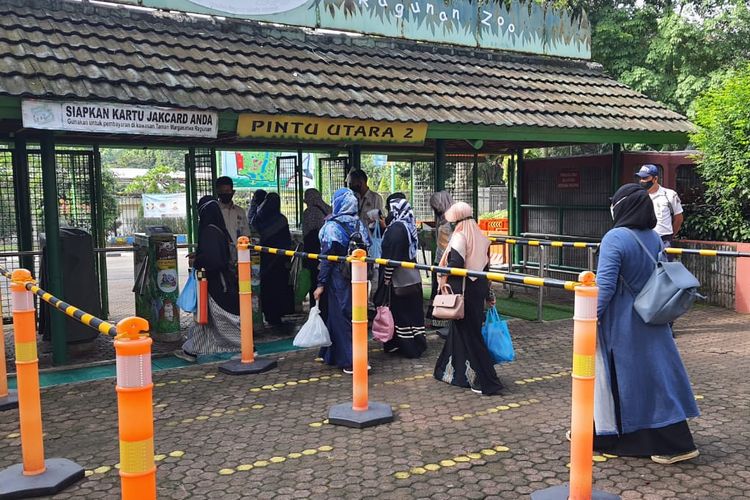 Visitors queuing at Ragunan Zoo during the Covid-19 pandemic
Also read: Jakarta Prohibits Tourism Players from Hosting New Year's Eve 2021 Celebrations
The ban on New Year's celebrations in public places did not keep business from shutting their doors. Jakarta's Ragunan Zoo announced that it will still open for the Christmas and New Year's holidays.
"[Ragunan] zoo will be open from 8am to 3pm, with a 25 percent visitor capacity, or 2000 people, at any one time. Children below nine years old, pregnant women and older people above 60 will not be allowed in the zoo," said zoo official Ketut Widarsana.
"Visitors with diabetes, heart problems, tuberculosis, kidney failure and other pre-existing conditions are also barred from entering Ragunan Zoo. The application of health protocols is in accordance with the latest developments of the Covid-19 pandemic in Jakarta."
Ketut added that the policy still applies until further notice.
Indonesia currently has 629,429 Covid-19 cases since March 2020 after an additional 6,129 cases were detected over the past 24 hours. 19,111 people died from the coronavirus, while another 93,662 cases were thought to be active.
On the other hand, 516,656 people recovered from Covid-19.
(Writers: Dian Erika Nugraheny, Wahyu Adityo Prodjo, Haryanti Puspa Sari | Editors: Dani Prabowo, Nursita Sari, Bayu Galih)
Source:
https://nasional.kompas.com/read/2020/12/15/12000781/pemerintah-larang-perayaan-tahun-baru-di-tempat-umum.
https://megapolitan.kompas.com/read/2020/12/15/10103751/ragunan-beroperasi-saat-libur-natal-dan-tahun-baru-anak-di-bawah-9-tahun.
https://nasional.kompas.com/read/2020/12/15/15370271/update-bertambah-6120-kasus-covid-19-indonesia-kini-capai-629429?page=all#page2.
Dapatkan update berita pilihan dan breaking news setiap hari dari Kompas.com. Mari bergabung di Grup Telegram "Kompas.com News Update", caranya klik link https://t.me/kompascomupdate, kemudian join. Anda harus install aplikasi Telegram terlebih dulu di ponsel.