JAKARTA, KOMPAS.com – The Indonesian National Police is heading for a showdown with the Islamic Defenders Front ( FPI), after a shootout between both sides on a toll road on the outskirts of Jakarta left six alleged members of the vigilante group dead.
In other news, Indonesia is starting to get a break in its fight against the Covid-19 pandemic, as the first batch of the country's long-awaited vaccines started to arrive last weekend.
Indonesia's Covid-19 Task Force is acting like the Grinch who stole Christmas, as its chief Doni Monardo advised the Indonesian public to rethink travel plans for the year-end holidays. Read on for more of these news items, as curated by our editors: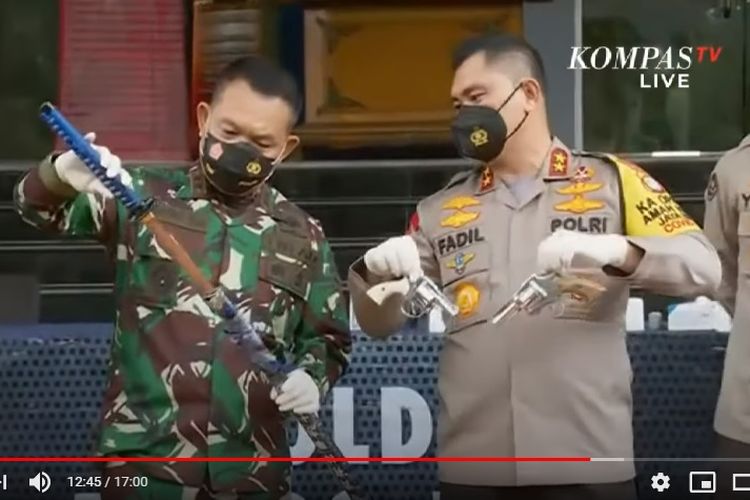 Jakarta Military Commander Major General Dudung Abdurachman [left] and Jakarta Metropolitan Police chief Inspector General Fadil Imran [right] show weapons confiscated from FPI members who assaulted policemen officers on [7/12/2020] . The attack left six FPI members dead.
Jakarta Police Gun Down 6 Alleged FPI Members on Outskirts of Capital
The Jakarta Metropolitan Police has taken its firmest action yet against the FPI, as officers from the regional police force shot dead six suspected members of the controversial vigilante organization in a toll road outside the capital on Monday, December 7.
"Investigators tailed a vehicle suspected of carrying 10 FPI members after they received a tip that [FPI head] Rizieq Shihab's supporters will back him during his summons by the police," said Jakarta Metropolitan Chief Inspector General Fadil Imran.
"The suspects…approached our men with harmful intent…and forced them to open fire in self-defense." He added that the rest of the group escaped and are still at large.
Fadil also vowed to take stern actions against any parties who will try to obstruct the police during their investigations. He noted that the incident is related to FPI head Rizieq Shihab's scheduled summons to the Jakarta Police for violating health protocols.
FPI secretary Munarman denied the group's complicity in the incident.
Source: